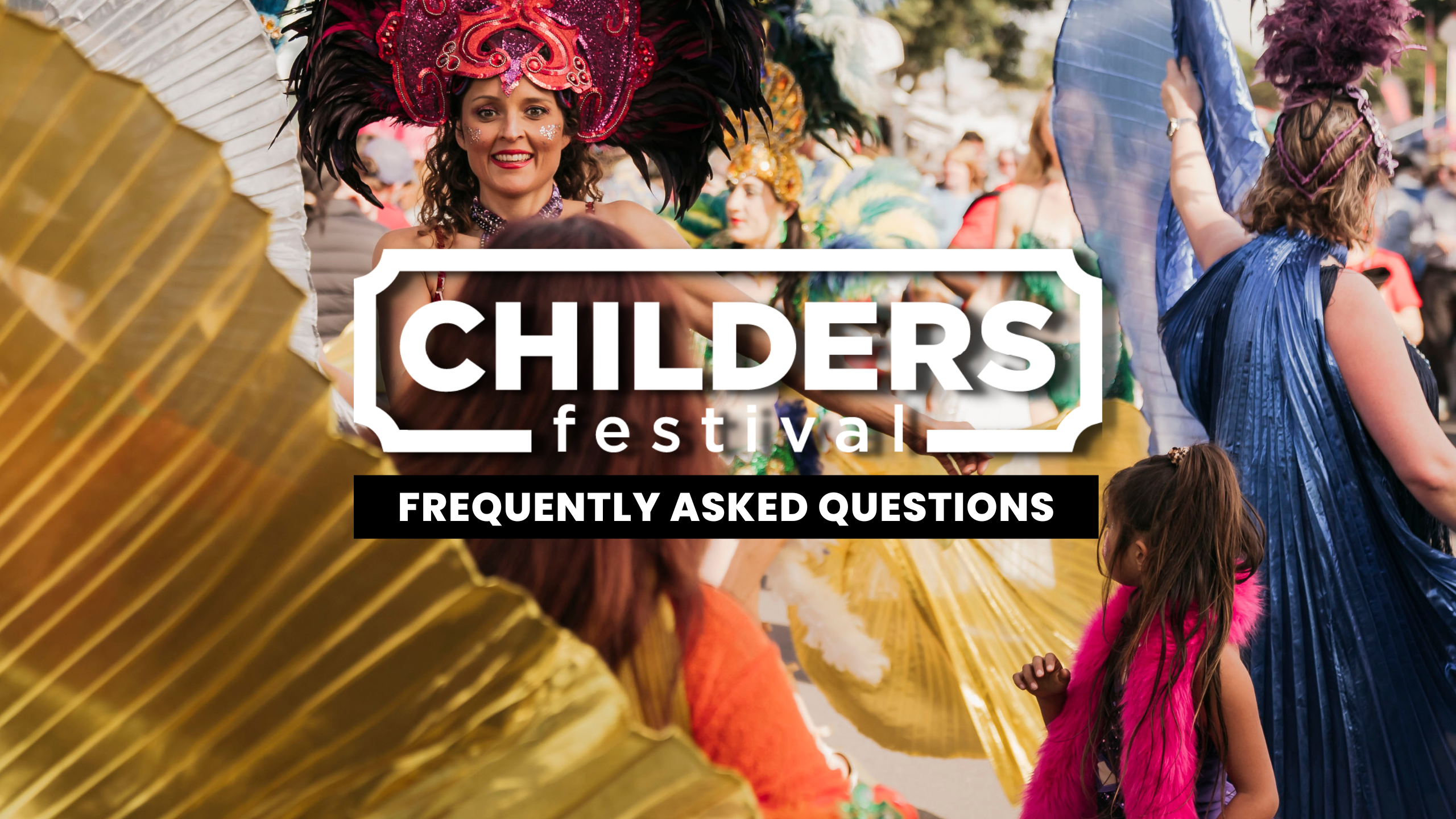 Pre Festival FAQs
Is Childers Festival open for all ages? Childers Festival is an all ages event. Some ticketed events may have age restrictions, check event details prior to booking.
Where are the events located? Events are held throughout the Childers area, refer to event details for specific locations. Childers Festival market day on Sunday 30 July is held on Churchill St. Crescent St and throughout the Childers CBD.
How do I stay up to date on Childers Festival news? Be the first to know about all things Childers Festival:
Subscribe to our newsletter here.
Like the Childers Festival on Facebook here.
Follow us on Instagram here.
Check out the Childers Festival website here.
Who are the organisers of Childers Festival? Childers Festival is owned and organised by Bundaberg Regional Council.
Can I be a stallholder at the Childers Festival? Applications for this year's stallholders have closed. Check in here early next year to apply for the 2024 festival.
Where can I find the entertainment appearing at the festival? Follow us on Facebook for updates. The full schedule of entertainment will be released closer to the festival.
Will I need to bring cash? Yes, some vendors will only accept cash. EFTPOS is offered by many vendors. There are bank ATMs located in Churchill Street and portable ATMs in Crescent Street over the weekend.
What are the opening times of Childers Festival? Childers Festival market day runs from 9 am - 3.30 pm.
What happens if there's bad weather on the day? Follow us on Facebook for all necessary updates.
Can I volunteer during Childers Festival? Yes, contact events.admin@bundaberg.qld.gov.au for more information.
Is the festival wheelchair friendly? Yes
I have dietary requirements, will there be food for me? There will be an extensive range of food vendors throughout the festival catering to all dietary requirements.
Can I leave Childers Festival and re-enter later in the day? Yes
How do I buy tickets? When event tickets go on sale they will be available on the Childers Festival website.
Can I buy tickets at the venue? Depending on the event, some tickets will be available for purchase direct from the venue, however all ticketing will be available online on the Childers Festival website. Due to high demand, keep an eye out on our Facebook page for ticket release dates.
I haven't received my ticket, what should I do? If you have not received your e-ticket check your junk/spam folder. If still unaccounted for, contact events.admin@bundaberg.qld.gov.au
Do children require a ticket to attend? Childers Festival Day is a free event and does not require a ticket. Ticketed tours and events within the festival will have their own age requirements, check the specific event details for any age limits, etc.
Festival Day FAQs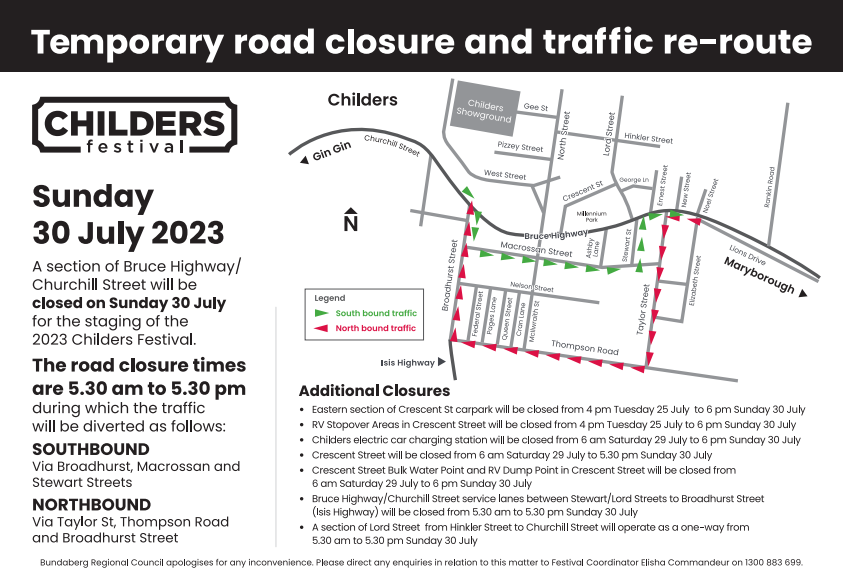 ATMs There are a number of ATMs in Churchill Street (the main street) as well as extra ATMs located in Crescent Street on Sunday 30 July.
SMOKING is not permitted in the Festival event area outside of the designated smoking areas.
ALCOHOL can be purchased to take home from winery and liquor stalls at the event, but can only be sampled/consumed in the designated consumption areas, generally adjacent to these stalls. A bar with a licensed area will be open on Saturday night and Sunday near the stage in Crescent Street. Patrons are asked to drink responsibly and reminded that only adults 18 years or over are allowed to consume alcohol.
QUEENSLAND POLICE A marquee located at the corner of Bruce Highway and North Street, as indicated on the Festival map, will be manned by Queensland Police on Sunday 30 July. Police will also be on patrol in the festival area.
FIRST AID for the festival is located in the Meeting Room of the Isis Cultural Centre, 49 Churchill Street, whilst the Queensland Ambulance Station is located in North Street (to the north of the Childers Neighbourhood Centre).
BABY FEED AND CHANGE AREA The Australian Breastfeeding Association Childers Group feed and change tent will be located in Millennium Park in Crescent Street (behind the NAB and adjacent to the Children's playground). There are also baby changing stations in the toilet facilities located in Millennium Park and at the Isis Cultural Centre, 49 Churchill Street.
LOST PROPERTY handed in during the festival will be located at the Isis Cultural Centre, 49 Churchill Street Childers. Otherwise contact our Events team on events.admin@bundaberg.qld.gov.au.
TOILETS with facilities for the disabled are located inside the Isis Cultural Centre, 49 Churchill Street and at Millennium Park. Toilet trucks will also be located in North Street outside the Neighbourhood Centre and in Crescent Street at the rear of the carpark near the Stage One.
PHOTOGRAPHY Bundaberg Regional Council may engage photographers to take photos of or film people attending this event. By attending, you agree to Council making images or recordings of you at the event and you authorise the storage, use, publication or reproduction of the images in any form and by any medium for public relations, promotional and advertising purposes, which may include newspapers, magazines, websites, social media etc. and may result in your personal information being transmitted outside of Australia. Information obtained will be handled in accordance with the Information Privacy Act 2009 and the information privacy principles. Please notify a Council representative if you do not wish to be photographed.
COVID-19 For safety advice please refer to the Queensland Government's COVID-19 directive. Should an event be unable to take place due to COVID-19 it will be either rescheduled or cancelled.
FEEDBACK can be submitted to events.admin@bundaberg.qld.gov.au
Parking
SUNDAY FESTIVAL PARKING There are a number of parking options including St Joseph's Primary School $10, Isis District State High School $5, Childers Showgrounds free of charge and a designated area at the corner of Lord and Crescent Streets for disabled parking only. Motorists are asked to consider residents, and are not to park in driveways. Police will be monitoring the situation throughout the day.
THURSDAY TWILIGHT MARKET PARKING Isis District State School will be offering parking options including car $5, caravan/trailer $10 plus an additional car wash service for car $15 and 4WD $20.
RV CAMPERS and CAMPING Apple Tree Creek Showgrounds will be open for RV Camping from Tuesday 25 July to Monday 1 August. There is no site fee and we will not be taking reservations for these sites. Please note that there are limited facilities which are only suitable for self-contained campervans and RVs. Campers are advised when they arrive on site to park around the edge of the grounds.
ROAD CLOSURE A section of Bruce Highway / Churchill Street will be closed on Sunday 30 July from 5.30 am to 5.30 pm for the staging of the 2023 Childers Festival. Traffic will be diverted as follows:
SOUTHBOUND - Via Broadhurst, Macrossan and Stewart Streets
NORTHBOUND - Via Taylor St, Thompson Road and Broadhurst Street
Pets
No pets are allowed on the event site with the exception of assistance animals. Please be aware that the sun, dehydration, noise and huge crowds increase the stress and health problems for pets.
DOG MINDING On Sunday 30 July, Red Collar Rescue Inc. will be onsite at the Childers Showgrounds offering a dog minding service so your furry friend can be cared for whilst you attend the Festival. This is a free service that will be available between 9 am and 3.30 pm and offers dogs a shaded area, water, exercise and of course companionship! Whilst this is a free service, donations are gratefully accepted.
Red Collar Rescue Inc. is a local, independent, non-profit, charitable organisation and 100% of earnings from this dog minding service will go directly to caring for the animals in its care. For more information, please contact 0438 869 085.

Getting to the festival
DRIVE The Childers Region is within comfortable driving distance from Brisbane, Sunshine Coast, South Burnett and Darling Downs regions. Childers is just 3.5 hours' drive north of Brisbane 360 km along the Bruce Highway (A1).
ELECTRIC CARS The Childers car charging station in Crescent Street will be closed from 6 am Saturday 29 July to 5.30 pm Sunday 30 July. Please factor this into your travel through the region.
FLY Qantaslink and Link Airways operate direct flights between Brisbane and Bundaberg. Childers is a 35 minute drive from Bundaberg. The next closest airport is at Hervey Bay, a 1 hour drive from Childers.
TRAIN Queensland Rail operates regular services from Brisbane, Rockhampton and Cairns into Bundaberg railway station. For more information visit their website.
BUS CaCh Tours and Events are operating several transfers form Hervey Bay throughout the four-day festival. For more information visit their website.
Greyhound and Premier operate several northbound (from Brisbane) and southbound (from Cairns) services each day to Bundaberg. Please note that coaches will not drop off or collect in Childers when the road closure is in place between 5.30 am to 5.30 pm on Sunday 30 July. For more information visit the Greyhound or Premier websites.
RV Campers + Camping
CAMPING Apple Tree Creek Showgrounds will be open for RV Camping from Tuesday, 26 July to Monday 1 August.
There is no site fee and we will not be taking reservations for these sites. Please note that there are limited facilities which are only suitable to self-contained campervans and RVs. Campers are advised when they arrive on site they are to park around the edge of the grounds.
A shuttle bus will run from Apple Tree Creek Showgrounds to the festival approximately every half hour between 9 am - 3.30 pm.
During the festival the RV carpark in Crescent Street will be closed from the evening of Tuesday 26 July, reopening Monday 1 August. During this time the Apple Tree Creek Showgrounds will be open for RV's and motorhomes to utilise.
Due to road closures, the water access and dump point in Crescent Street will be unavailable from 10 am Saturday 29 July to 5.30 pm Sunday 30 July.
The accommodation providers listed below support the Childers Festival.
Good Night Scrub Community Hall
For other accommodation options visit the Bundaberg Tourism website.
History of the Festival
The Childers Festival, a successful initiative of the former Isis Shire Council had modest beginnings in 1996 as a 'Food and Wine Festival' that attracted 5,000 people. The timing of the event was selected as the last weekend in July, as it was a drier time of year, and did not collide with other major events in the region.
The following year the Bruce Highway was closed to accommodate the event, and the crowd immediately doubled. More performers and more stalls were added to the festival and the number of people coming to the Childers Festival increased annually. The festival grew to gradually claim Crescent Street, where the main stage was eventually moved to.
As the event developed, more power outlets were strategically placed along the main street so that a greater number and variety of food vendors could be successfully incorporated into the festival. As the event changed, so did the names, and the Childers Food and Wine Festival became known as the Childers Multicultural Festival, before being renamed the Childers Festival of Cultures in 2006.
Today it is simply known as the Childers Festival, and has established itself as a major event on the Queensland and Australian Events Calendar. Attracting crowds of over 40,000 people, the event runs over four days and is now coordinated by Bundaberg Regional Council with the assistance of a local committee. The most popular day of the festival is the Sunday, which features over 300 stalls with an incredible range of wares, delicious cuisine from all around the world and a huge array of entertainment.
FRIENDS OF THE FESTIVAL The 'Friends of the Festival' is a combination of people from a wide range of Childers Businesses such as local wineries, local attractions and accommodation places, representatives from local service clubs, musical and multicultural groups, Councillors and staff from Bundaberg Regional Council.
The Friends have been meeting since 2014, being instrumental in the creation of a number of activities, including the Isis Central Sugar Mill and Cane Fire Tour and Historical Bus Tours.
Festival Partners
It is a well known fact that visitors are often interested in anything from the local district, whether it be produce, arts and crafts and performers.
In response, the Friends have created a 'Look for the Local' logo, which includes the Childers Festival logo. The logo will be displayed by stallholders, food vendors and wineries who come from Childers and its immediate district.
The Childers Festival is one of the most vibrant and popular events in regional Queensland, attracting crowds in excess of 40,000 annually and presents great opportunities to expose your business.
Looking to partner with Childers Festival? Reach out today!