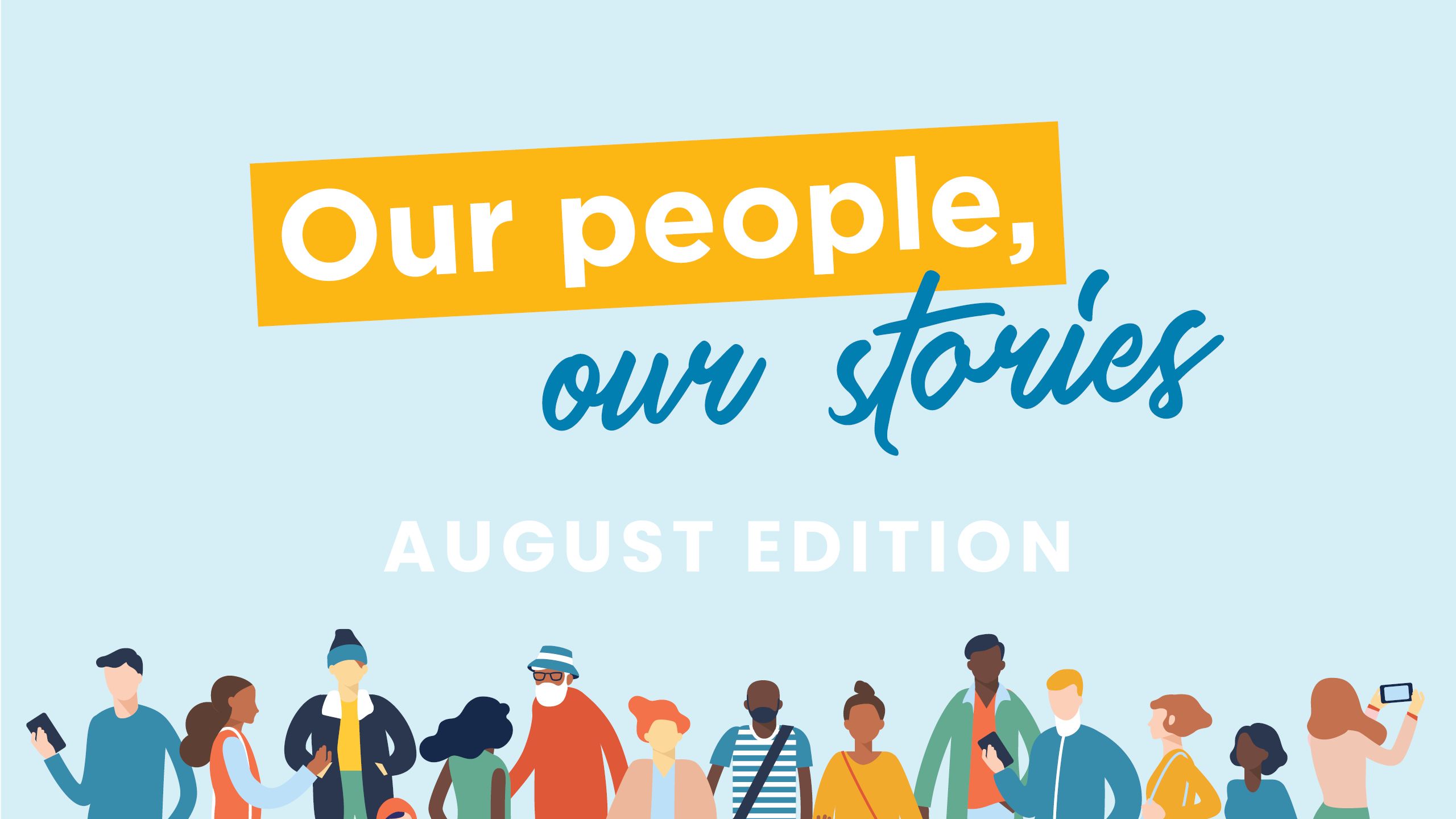 Glennis Goodman
Known to like a challenge and with an optimistic attitude, Glennis explains "I try to not let much beat me."
Born in New Zealand in the 1940's, Glennis Goodman crossed the ditch to start her life in Australia at the age of 16. She purchased land in the town of Boonah, the Scenic Rim, having made the big move for job security.
Glennis studied nursing and excelled in her career helping people. Glennis held the esteemed role, Director of Nursing at Gin Gin Hospital and Bundaberg Base Hospital between 1974 to 2003. In 1976 she was honoured as "Queensland Nurse of the Year".
Glennis continues to give back to her community in many ways.
"You do things because you like helping your community and keeping it together, without expecting anything in return", she said.
Glennis has been a Patron of Wallaville State School for the last 20 years, ensuring the school has a voice in the community, attends P & C meetings and supports the raffles.
Her role with QCWA develops women in leadership roles and helps them to upskill and take on other roles.
"There is more to it than tea and biccys," she said.
Glennis holds many other roles including Chairperson of the Community Reference Group for Wide Bay Health Service and the Hospital Auxiliary.
After retirement, Glennis' farmer husband suggested they should volunteer for Meals on Wheels and she nearly fell off her chair in shock. She now devotes her time delivering meals to residents in Gin Gin and surrounding areas.
"There are two town runs, a country run, a service run to Mt Perry and a frozen pick up service from the hospital," she said.
"I don't expect anything in return, I try hard to help people.
"Take it slow and you can enjoy your work and the outcomes, and then you will find it more rewarding."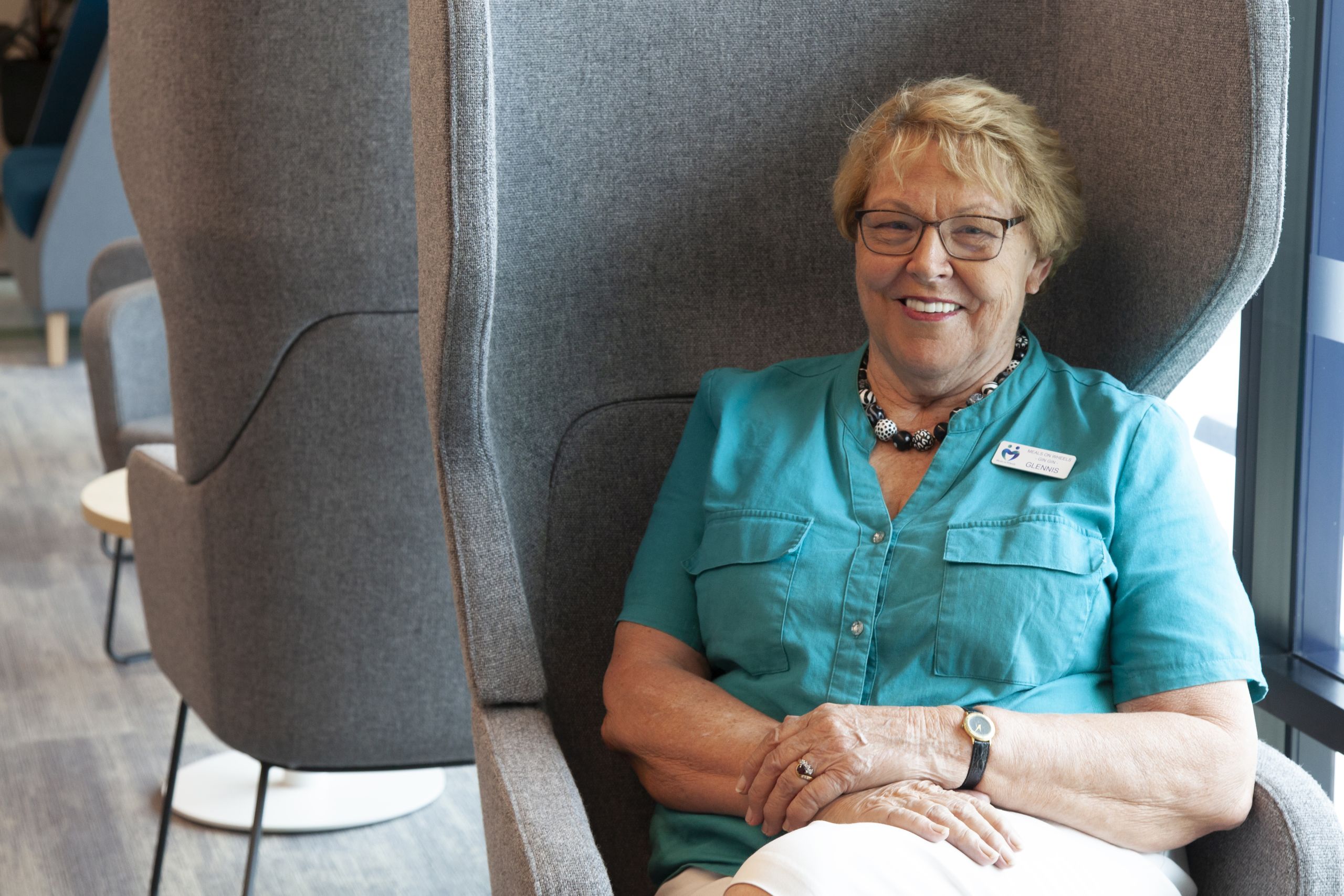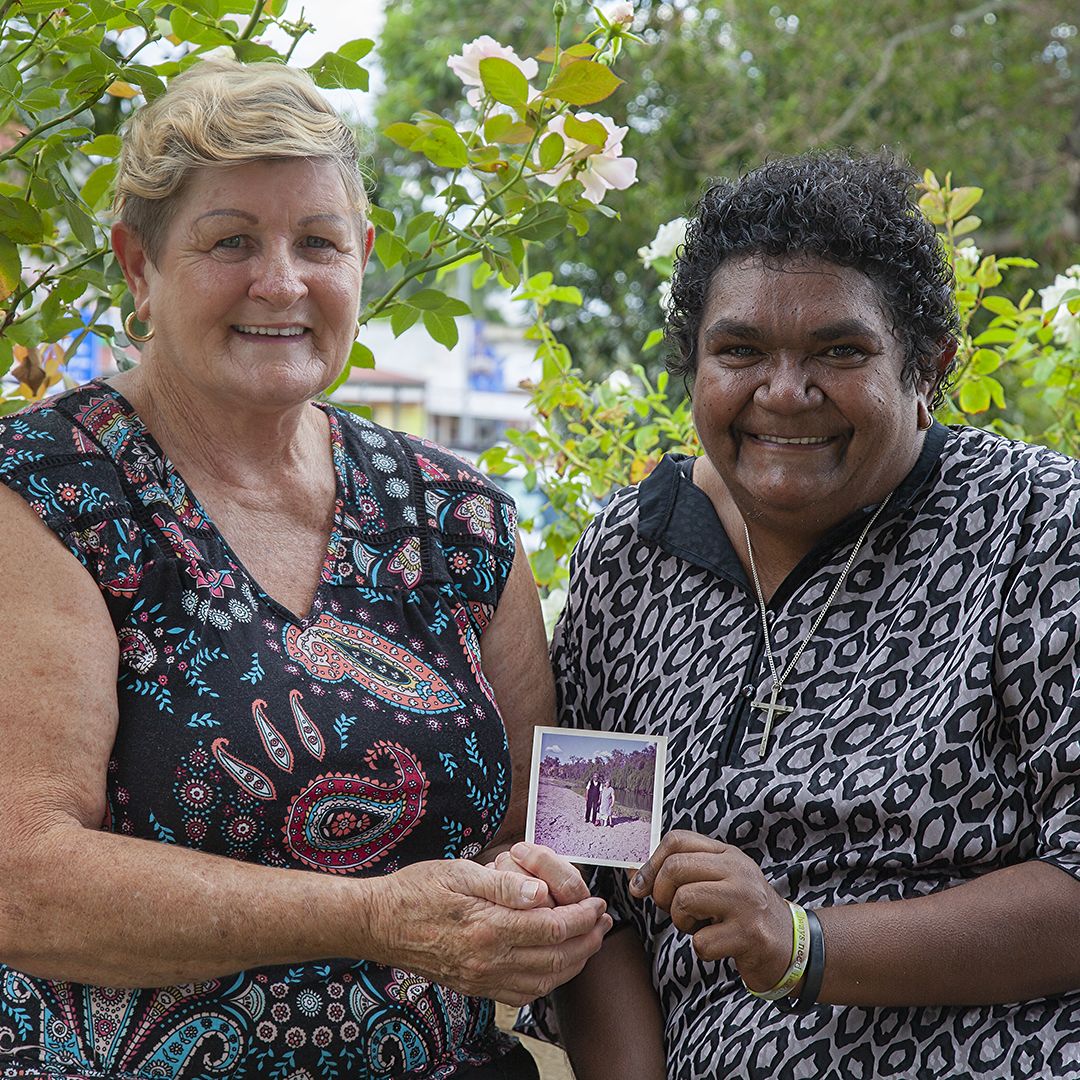 Liz Tobin & Wendy Wilson
More than 50 years ago Liz Tobin was a very sick, abandoned baby who was given a second chance at life by 16-year-old nurse, Wendy Wilson.
Their bond and connection made during their short time together has remained strong over the years and, through a series of events, the pair have recently found each other again in Gin Gin.
Their story begins when, at just two months old, Liz was found ill and abandoned in a box in Tenterfield, New South Wales.
She came into the care of Wendy who was a nurse at the local hospital assigned to her case. Wendy cared for Liz for five weeks, affectionately calling her "funny face" especially at night when she was feeding and starting to show her personality.
After Liz had regained her health, she left the hospital and found a home with a lady by the name of Mrs Tobin, and that was the last Wendy heard about the beautiful baby.
Little did she know that 50 years later their paths would cross again.
Posting a photo of her biological family to Facebook on the Tenterfield Memories Facebook page, Liz turned to the community in the hope to find out more information about where she had come from.
Wendy responded to the post, realising the family in the picture lived over the paddock from her.
Liz returned a private message without realising the connection they had shared, and the pair soon began talking on the phone.
"I've heard the voice before," Liz gasped, putting two and two together.
It was after that phone conversation that Liz and Wendy planned to meet.
Then on 10 January 2020 Liz travelled to Bundaberg to spend seven weeks with Wendy and her family.
It was after this visit that Liz knew she needed to be closer to Wendy.
Liz now refers to both Mrs Tobin and Wendy as her two mothers.
Liz and Mrs. Tobin made the decision to move from Tenterfield to Gin Gin in March last year to be closer to Wendy, who she now calls Nan.
Wendy said Liz was now all grown up from the beautiful baby she had saved decades prior.
"Elizabeth has flourished through the care of a very good lady, Mrs. Tobin," Wendy said.
"I idolise Wendy and just love her so much, she means the world to me," shared Liz.
"I can still give her a cuddle and a kiss, but I can't nurse her now!" Wendy said.
Ray Johnson
Ray Johnson is best known around the Bundaberg Region for his knowledge of rare fruits, native plants, and his passion in establishing the Gin Gin Landcare Nursery and Bush Food Garden.
In 2014, Ray was awarded the Green Spirit Award for his community involvement and love of the environment.
"It makes it all the more rewarding when visitors come to the nursery and comment on how much they enjoy the experience, the friendly staff and an interesting lot of native plants," he said.
Ray was born in Kogarah, Sydney in 1944.
He completed his early education but at 15 was ready to go bush and leave the learning side of things to a later date.
His love was in the natural world and town life was not for him.
Over the next 11 years Ray worked around the country as sheep shearer, cattle worker, timber cutter or anything else to bring in a dollar.
At 26 Ray became curious about the world beyond Sydney, so for the next three and a half years he travelled Europe, Canada, New Zealand, U.S.A. and parts of Asia.
During his travels Ray took an interest in his Christian background and at one time spent four years studying theology in America.
It was here he met his wife to be and together they returned to Australia to spend the next 12 years establishing a place of worship.
As situations changed Ray and his wife Marsha then went on to spend the next eight years travelling and working their way around Australia.
A four-wheel-drive and an old caravan took them on an adventure of a lifetime.
Finally, becoming weary of the traveling life in 2004, they looked for a place to settle and Gin Gin was chosen as their final destination.
"Life has been good!" Ray exclaimed.
The couple have two children, seven grandchildren and love the place they now call home.
Marsha enjoys her art, while Ray, just like in the beginning, still has a love affair with the great outdoors and a passion for the environment.
If you want to catch up with Ray, he is never far from the Gin Gin Landcare Nursery, so come by and have a chat.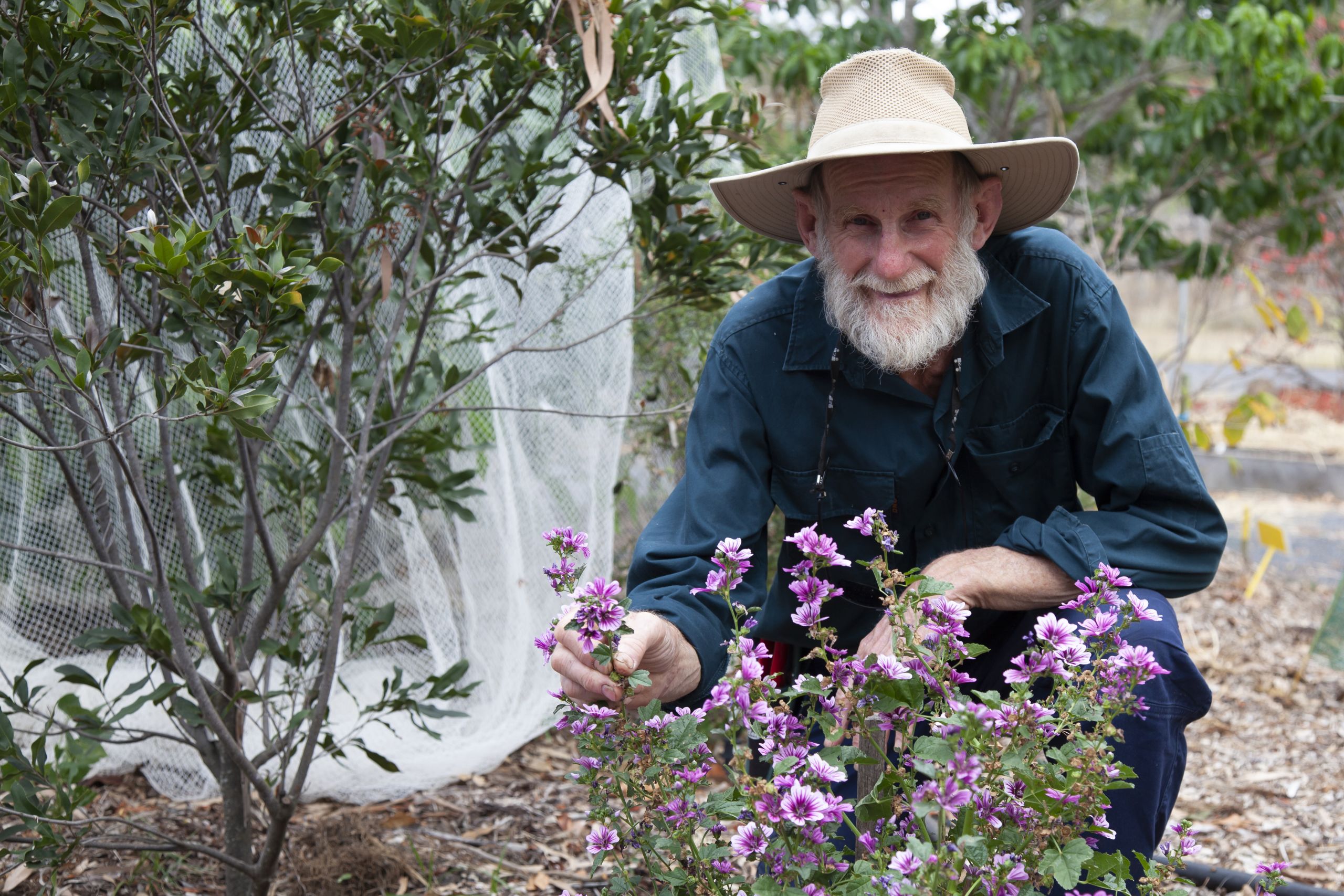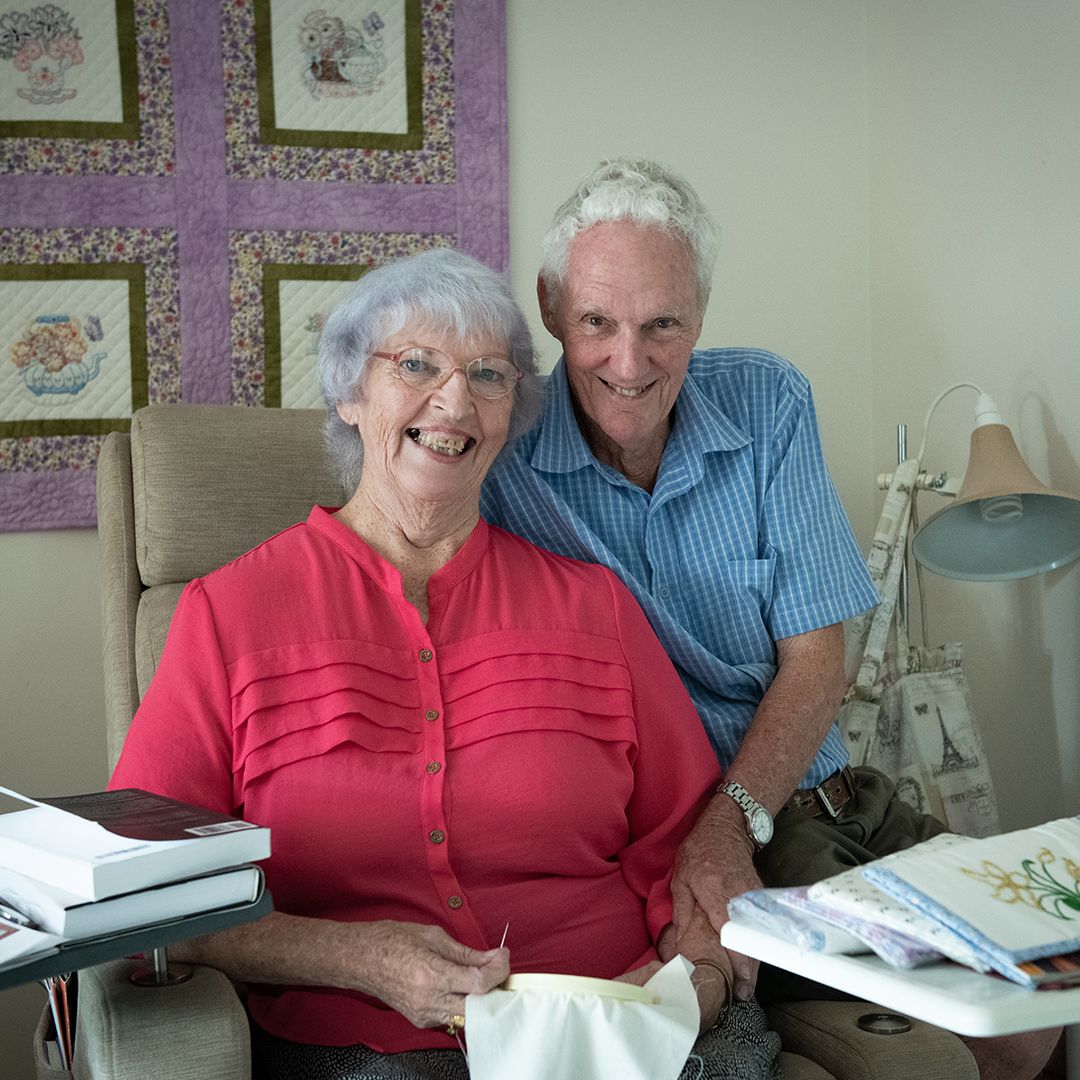 Margaret & Leigh Evans
In 2013, Bundaberg East State School had 90 families impacted by flood water.
With some handy sewing skills and a passion for helping the community, Margaret and Leigh Evans got to work to create embroidered sachet bags filled with goodies to distribute to those affected.
It was a project close to the hearts of the couple, with Bundaberg East State School being where Leigh had worked as a teacher before retiring.
Margaret and Leigh have been married for 57 years and share a love for helping others.
In fact, they have continued to make their goodie bags for many organisations throughout the region and beyond.
The project is something the couple enjoy doing and the work is made easier with Margaret's fantastic sewing skills.
Diagnosed with a slow-moving muscular dystrophy at just 10 years old never stopped Margaret from taking up sewing, and after a bit of guidance from her mum, became talented at the hobby.
Margaret and Leigh, through the help of friends, family and local organisations, have distributed hundreds of bags within the community, and even outback Australia, over the year.
"I'm sharing this story to encourage other people who use wheelchairs to get involved in helping their communities," Margaret said.
"Although I do realise not everyone does quilting and embroidery! Every little bit helps to ease the pain for those who are going through desperate times.
"God loves you; people love you too – I hope this is the message people feel when they receive one of my bags."
Margaret Watson
An interest in learning sign language and a passion for helping others has led Bundaberg resident Margaret Watson on a journey of volunteering in the region.
Margaret began offering sign language workshops at Ymazing Cafe in Bundaberg a few years ago, providing the community with a place to learn Auslan for free.
The workshops stemmed from her interest in sign language after being introduced to the form of communication through her daughters school.
"There was a state school that had a pilot program for children that were hearing impaired," she said.
"I was very interested so that's when I started to learn sign language.
"By the end of year one every child in that school could sign."
When she moved to the Bundaberg Region, Margaret wanted to continue her sign language work and decided to put a call out to the community to see if there was a local need for workshops.
Ymazing provided her a place to host Auslan sessions with the Bundaberg Homeschoolers group jumping on board, taking up Auslan as their language for their curriculum.
"I hosted the classes for free and had about 14 children learning sign language from the Bundaberg Homeschoolers," Margaret said.
It was a place that allowed Marg to meet people and provide assistance where she could, two things she always tried to involve herself in no matter where she was.
Marg has travelled around the world and along the way has dived into many hobbies through her love of getting to know other people.
While her life has been filled with plenty of colour, Marg has been no stranger to the darkness after losing three husbands, and although times have been tough, she said she has always come out on top with the help of poetry and art.
"I have immersed myself in poetry and art," Marg said.
"I think they were my methods of helping me through some very difficult times."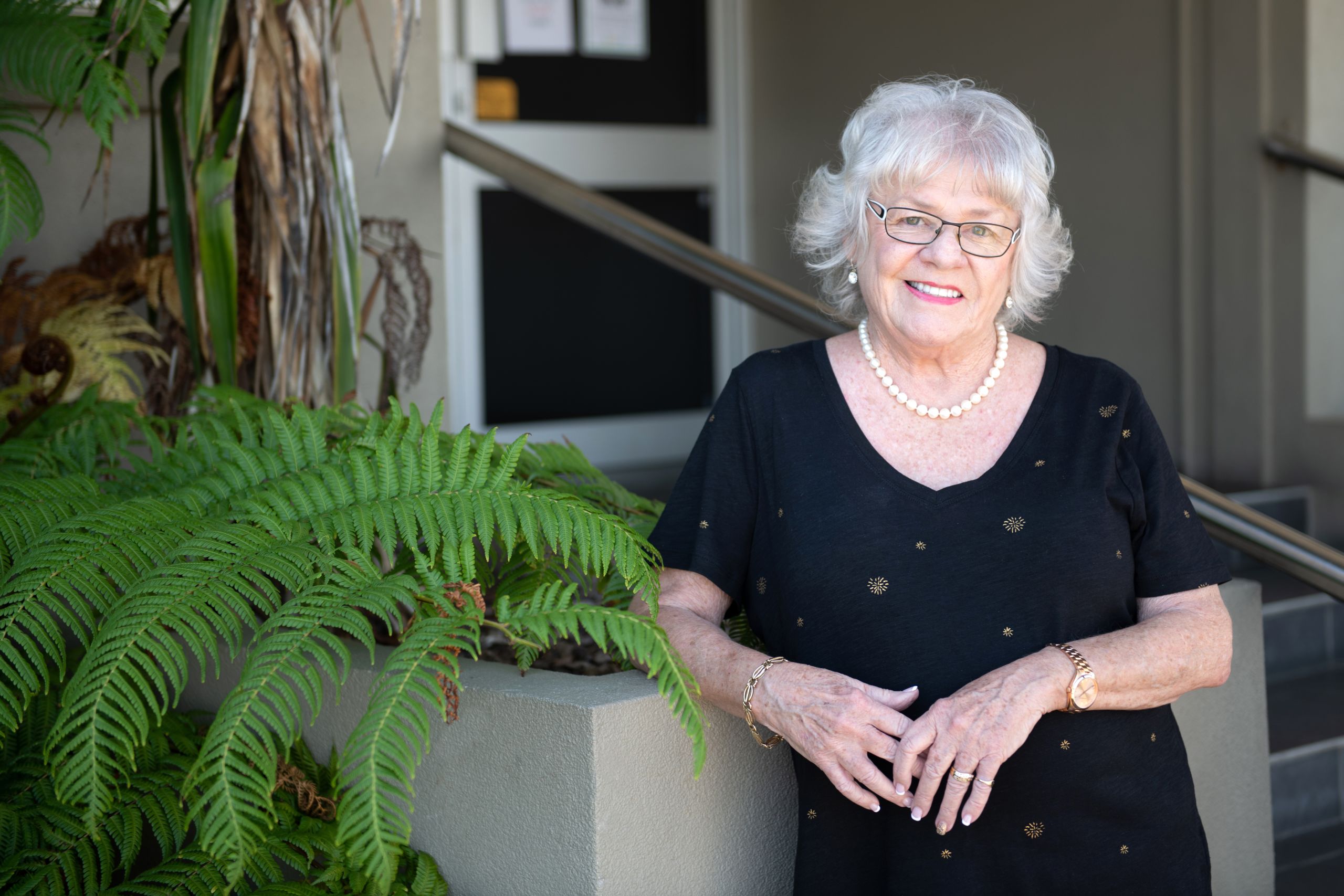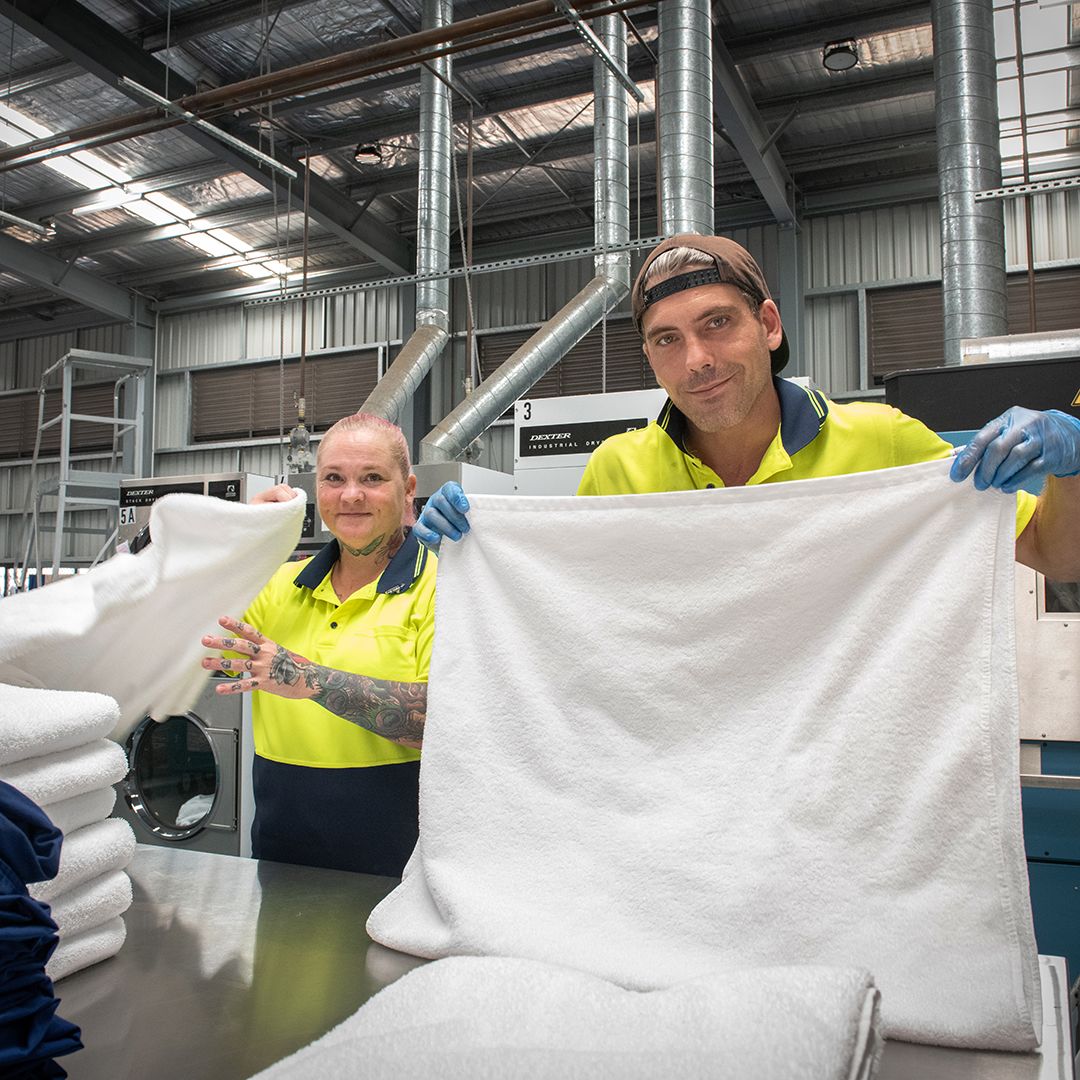 New Image Laundry
Supporting the community and providing a positive place of employment for their staff are just some of the many goals of New Image Laundry.
The local business, established in 2013, specialises in commercial and domestic linen services throughout Bundaberg and surrounding areas and employs more than 18 people.
New Image Laundry is proud to offer employment opportunities for staff who may be struggling with certain aspects of their lives, offering them the ability to earn a wage in a way that is suited to their needs.
Employee Nick said he was introduced to the business through IMPACT Community Services and his employment has not only improved his mental health but has also helped him gain financial independence.
"I've made the most of it and always give 150% and I try and have a good attitude and be grateful to have something to do," he said.
"I've suffered with anxiety and it's good to work with a supportive team.
"Once you get the opportunity things come together."
Like Nick, staff member Sarah said she has benefited greatly by New Image Laundry and their aim to offer a workplace that supports people overcoming mental health struggles.
She said it was a positive and supportive environment to work in.
"You just keep going, just accept that some days are going to be tougher than others," she said.
"It's okay to take a break and the staff rally around each other for support and discuss life's challenges."
At New Image Laundry staff are looked after, and in turn, take great pride in their work and providing a great laundry service to the community.
Nora Reeves
"The more you help people, the happier you will be."
That's the message Gin Gin resident Nora Reeves likes to live by and is something that has helped her find her way in the move from the Phillipines to Australia.
Having a fiercely independent attitude, Nora decided she wanted to explore the world at a young age and in 1983 she left her home in the Philippines to travel Japan.
"After high school I go by myself. I don't rely on anyone. I never relied on my parents," she said.
At age 34 Nora made the decision to move to Australia and landed in Moura where she lived before finally calling Gin Gin home.
Experiencing a not-so-warm welcome in the beginning, Nora made it her mission to create a space in Gin Gin where people of all cultures could come together and feel part of a community.
She went to the Gin Gin Neighbourhood Centre seeking information and that's where she went on to study English.
Nora met with a handful of Filipino during this time, which was the start of the first multicultural reference group in Gin Gin named Godwana Group.
The group has since evolved into the Gin Gin Multicultural Reference Group which operates to this day.
When her children started school, Nora was there helping the kindy through the P & C and community.
She continued to provide support to the primary school and then the high school as her children grew older.
It was important to Nora that she teach her children how to survive and be good people in life.
Her children assisted Nora with community events by helping with the decorations and the raffles.
Nora loves to give back to the community through baking cakes, teaching people how to cook international foods or creating international dolls.
She is always happy to share her culture with anyone who wants to learn.
"I am very proud of myself; I work so hard to help the people," Nora said.
"My mother influenced me with kindness - I want people to succeed.
"The more you work hard you will achieve your goal. Anything you can do it's achievable."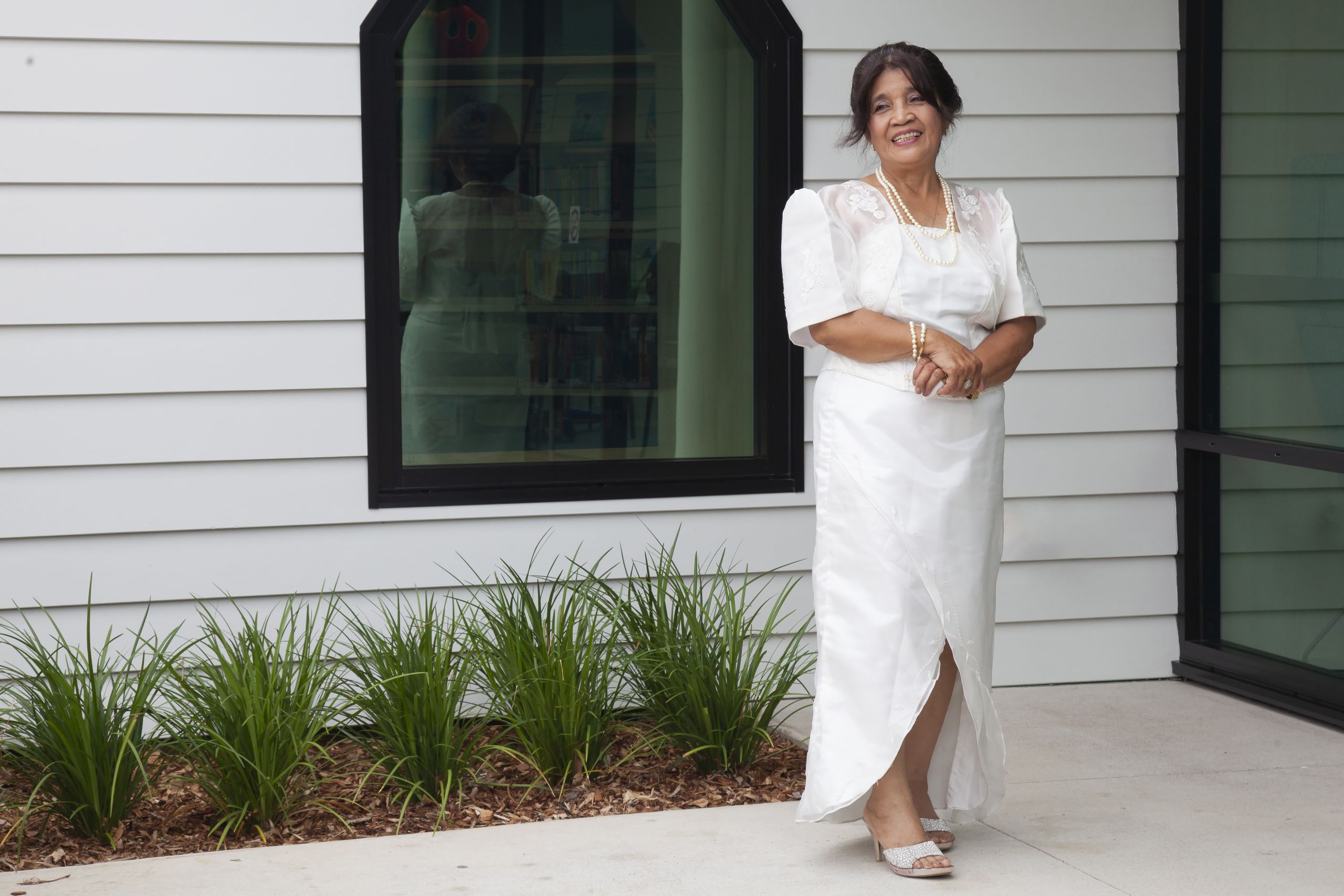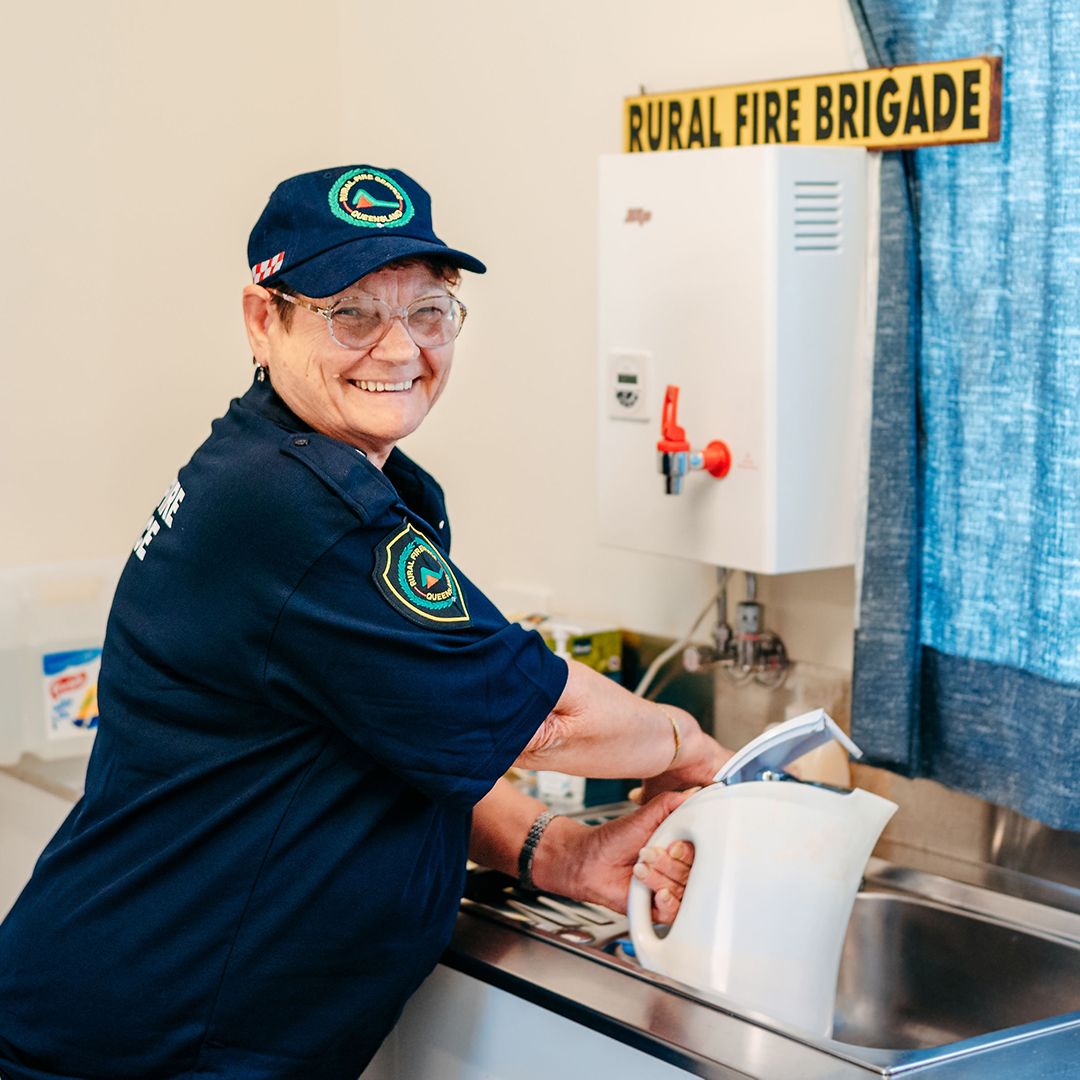 Yvonne Garnham
Yvonne Garnham is a volunteer and fundraising superstar in the Buxton community, spending her time supporting others through the Buxton Friendship Association and Buxton Rural Fire Brigade.
It's something she has always had a passion for and although she has worked many paid jobs throughout life including bar and hotel manager, Yvonne said she gets the most satisfaction out of volunteering and helping others.
"I started fundraising the day my kids started kindergarten, and my eldest is now 50 years old," she said.
"It's about the satisfaction that you get by helping others.
"If everyone was better at giving in this place it would be a better place to live."
Yvonne has lived in Buxton for six years and helps to give back to the community by organising raffles and cent sales through her membership at the Buxton Friendship Association.
She has also fundraised enough money for the local rural fire brigade to purchase an extra vehicle.
"We hold four dinners a year that fundraise towards the rural fire fighters," she said.
"All the leftovers get made into bubble and squeak and given to the oldies who can't attend."
Yvonne is also support worker for the Buxton Rural Fire Brigade and on Australia Day each year she gets great enjoyment out of helping to cook breakfast to make sure everyone is fed.
She was also part of the team of supporters who were on hand to keep fire fighters from across the region hydrated and fed during last year's Woodgate fires.
Yvonne said she would always be there to support others for as long as she could.
"I'm not giving up; I have no intentions of giving up," she said.
"There is plenty to do if you want to do it and you're never too old or too young to volunteer."
Wendi Guy
Wendi Guy is a go-getter who loves nothing more than helping out in the Gin Gin community.
The local resident has played a part in many organisations over the years, taking on the role of President or Secretary to clubs including Gin Gin Rugby League Sports Club Inc, Gin Gin Historical Society Inc, Gin Gin Social Club, Gin Gin Community Alliance and many more.
Wendi has been a big part of the emergency services within Gin Gin, working on many road accidents, fires and even rescuing people during the floods.
She dedicated 18 years to the SES until she had a heart attack.
"I had a triple heart bypass after having two strokes and ended up with a stint in 2017. Then in 2018 I had a triple heart bypass," she said.
"Everyone tells me I need to slow down, but I won't - it gives me meaning to live and I love seeing people happy and smiling."
Wendi has spent 28 years with the rural fire service and is currently serving as a Volunteer Community Educator, but her interests don't stop there.
She is most known for her work with the Gin Gin Theatrical Society Inc. which she founded in 1994 but sadly closed last year due to Covid-19.
To add to her repertoire, Wendi pulled the Bullyard Hall out of a three-year remission in 2019 when she became the Secretary and began fundraising within the community.
"We found out the hall was going down the gurgler and I came on board as the Secretary, and we started the monthly markets and then from there a Car Rally and we had a massive Halloween night last year," Wendi said.
"There are about 200 to 300 people who attend the markets, I think because they can see that we are trying to do something with the hall for the community."
Originally born in England, Wendi was eight years old when she moved to Australia and would often pass through Gin Gin while on holidays.
"We would come through this town and Mum said, 'one day I would love to live here'," she said.
"Eventually all the family moved up and my son was born here, we are GinGinites now for 30 years."
Wendi said what she loves most about Gin Gin is the people.
"They are so friendly," she said.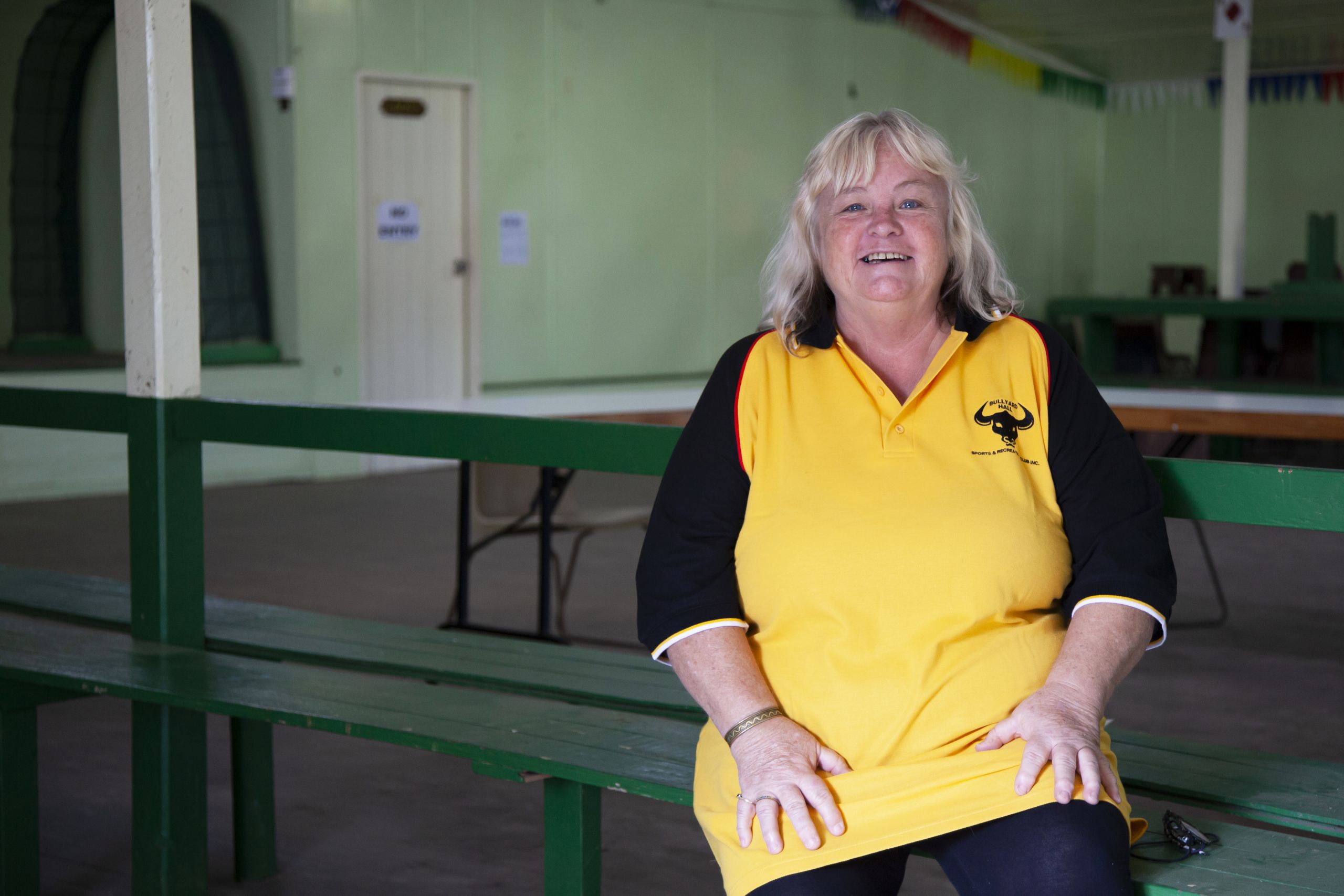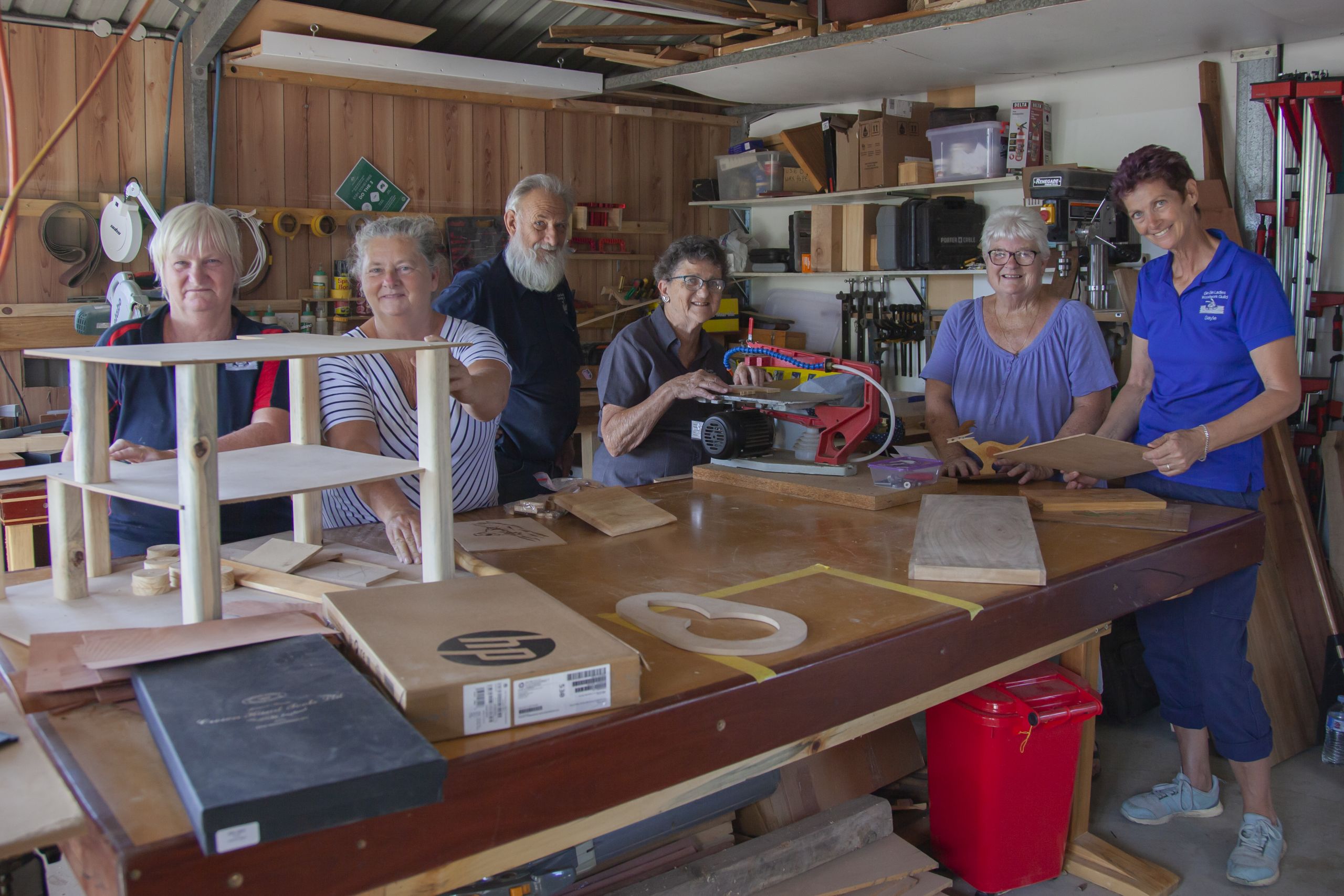 Gin Gin Ladies Woodworking Guild
"Women can do anything men can do" is a saying that rings especially true for the members of the Gin Gin Ladies Woodworking Guild.
The group was first formed by Meri Armstrong who decided to start up a woodworking space for women to meet twice a week and learn from one another.
She was first introduced to woodworking upon a visit to the local Men's Shed when she was given access to a scroll saw.
Realising her love for the hobby and unable to join the Men's Shed, Meri decided to put a call out to see if other like-minded women in the region wanted to be part of a new club.
Regular meetings were held on Meri's front verandah for three years before Bundaberg Regional Council provided a place to meet and a grant to help start the group with essential equipment.
Now, with a shed full of tools, Meri and the rest of the Gin Gin Ladies Woodworking Guild enjoy weekly catch ups and creative sessions with one another.
"The colours, the smells and the textures of the wood - it's a highlight of my week to be with people, enjoy their company and to be involved and part of this community," Woodworking member Gayle said.
"It's nice to see how someone can take a piece of wood and turn it into something creative.
"Sometimes we don't do anything, we just talk."
The members proudly showcase their finished creations including cutting boards, bird houses, wooden toys, feeders, planter boxes, phone holders, orchid hangers, puzzles and jigsaws at their clubhouse.
While skilled in their own right, the local women get some help from Men's Shed member Don, who provides his time to teach and mentor the group.
"Don from the Men's Shed attends meetings to assist with any questions," Gayle said.
He is a proud, honorary member of the Gin Gin Ladies Woodworking Guild.
"The accumulative knowledge within the group means that there is always someone there who can help."
For those wanting to learn more about woodworking, Meri said the first step was giving it a go.
"Nothing's impossible, you don't have to be an expert to learn woodwork, just be creative and have fun," she said.