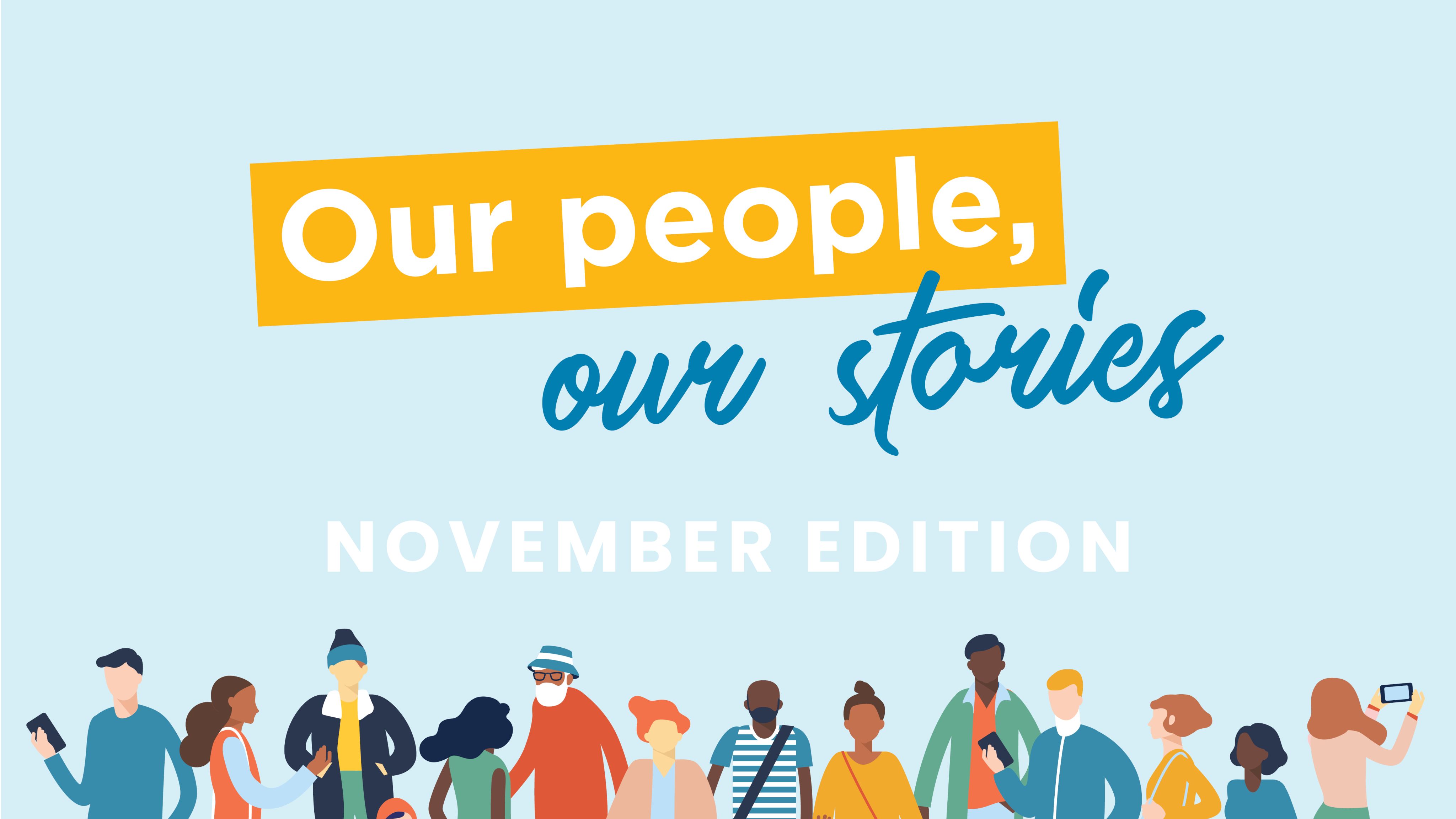 Matt Griffiths
Local Bundaberg man Matt Griffiths is an advocate for social development, empowerment and the community.
His passion for helping others has seen him become heavily involved in multiple organisations and he has dedicated his life to not just Bundaberg, but also the global community at large.
As a single father of a 15-year-old boy, Matt said he had a keen interest in youth development through education, which had spurred him to promote a range of student development programs and opportunities.
In 2022, he will host the Road Safety Young Driver Awareness Program alongside Bundaberg Police to teach students in Year 10 how to behave behind the wheels.
"RYDA features a highly engaging and memorable one day workshop which front-loads students' understanding of road safety," he said.
"It gives them the tools, habits and motivation to take action and stay safe on our roads."
Matt was born with a birth deformity of his right femur which was amputated at age 15, but this does not slow him down.
Instead, it drives him on to make a difference and help communities to achieve their potential.
He is also passionate supporter of the Seven Women Foundation in Nepal which supports disabled and disadvantaged women through education, economic empowerment social development.
At the outbreak of our current pandemic, Matt was in Kathmandu on a humanitarian tour with Seven Women and just made it back to Australia before the global shutdown.
He said he didn't go to Kathmandu to watch; he went there to do, and so managed to climb the 1000 steps of the Monkey Temple.
A supporter of Volunteer Marine Rescue Bundaberg, the Royal Flying Doctors Service, BushKids and a Director of the Bundaberg Field Day Society, Matt said his life was never boring.
"Whether it is floods, fires, famine or drought I am always willing to lend a hand and offer support...and a sense of humour!" he said.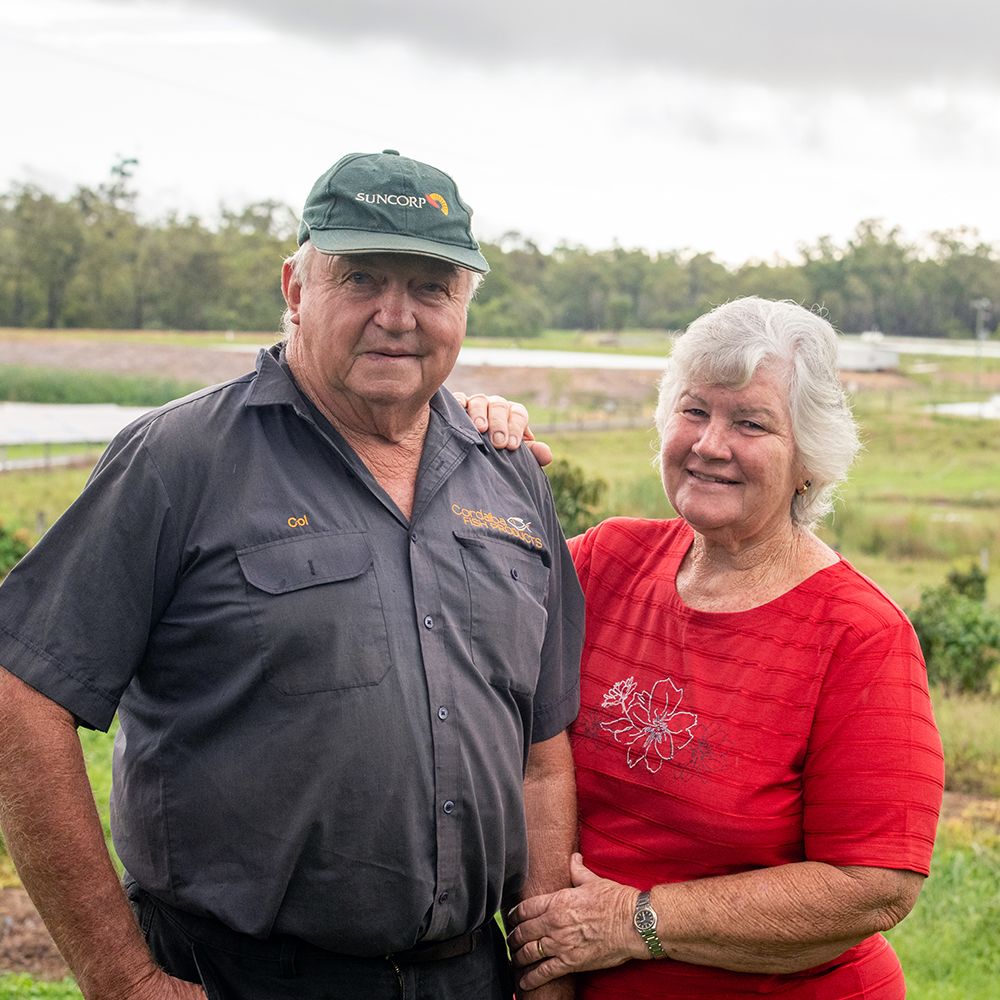 Col and Jan Taylor
Col and Jan Taylor are well known in the Childers and Cordalba community for their volunteer work with the local Rotary Club, QCWA and Meals on Wheels as well as the operation of their farm, Mango Paradise Bed and Barra.
"Mango Paradise has seen many changes over the years to stay ahead with changing times," the duo said.
Col was born in Bundaberg and was raised in Childers while Jan grew up in Southport before her family purchased a hotel in Childers, where the couple met each other.
Col is a fourth-generation farmer and the story of their business started with cane which has always been the backbone of their farming.
Through years of hard work and plenty of tough times their established farm has grown into mangoes, lychees to fish and now into macadamias.
"From cane farming we diversified into tree crops to try and supplement the cane, and while we waited for the mango trees to produce, we grew sweet potatoes and tomatoes," Jan said.
"When in season, the farm sells mangoes and lychees to the public through the roadside store.
"Somebody came here one day to purchase some mangoes and told us we had a little piece of paradise, which is where the name Mango Paradise came from."
Col said they then added a 44 megalitre pond for the cane and filled it with barramundi.
"Our son Paul was only young, so I thought I'd teach him how to run a business.
"We then we added a second pond and expanded with silver perch.
"From there we added another three ponds, then added another six and now we are up 24 ponds on 12 hectares of water agriculture," Col said.
The Taylors travel to Brisbane every Wednesday and supply live fish to the large fish shops.
"It was a matter of 'get big' to keep up with demand and to supply to those customers all year round," Col said.
The Mango Paradise property has been in the Taylor family for nearly 50 years, with Col's father stepping aside to let he and Jan take over.
"It's now our time to step aside and let the Paul and Letitia come up with different ways of doing things on the farm and pass it onto the next generation," Jan said.
The Taylors are looking forward to moving to Woodgate.
"We have no plans of stopping, we are just getting started," they said.
Leone Wilson
It was the summer of 1962 when Leone Wilson joined the Women's Royal Australian Air Force, beginning a 12-year career serving on bases throughout the nation.
Her time with the RAAF was not only where she met her husband John, it was also the start of a lifelong passion in volunteering for the veteran community.
After moving to Bundaberg in 1980, Leone said she and John became heavily involved in local organisations.
"One of our first Bundaberg committee involvements was with the Bundaberg Soaring Club, however it was the various organisations centred on defence service veterans that saw both of us becoming very involved, notching up decades in committee executive positions," Leone said.
Through her many roles within local community and veteran organisations, Leone said she became a prolific newsletter creator, which was something she had learned to love.
"The importance of communication has always been a driver for me," she said.
"Producing newsletters for members became a secondary but very important part of the committees on which I served.
"For the RAAF Association I have produced monthly newsletters for 20 years, for the Bundaberg RSL Sub Branch it was 30 years, and I am still producing them for women veterans after 27 years and the RAAFA.
"I also introduced a newsletter to the RSL Wide Bay Burnett District and produced that regularly during my 18 years on the committee executive."
Leone said one of the highlights during her 40 years of working in the veteran community came in 2014 when a long-held desire to see the War Nurses Memorial Park enhanced to honour the regional nurses who had served in the Australian Defence Forces was realized.
"Aided by a newly-elected president of our Ex-Servicewomen's Association, this project developed into a very fitting tribute to these selfless people who provide care and comfort to our service men and women," she said.
"Officially opened in 2014, plaques and tributes have been added since, marking significant anniversaries."
Leone said next year would be a very special time not only for herself, but also for the many women veterans throughout the nation.
"In 2022 the Vietnam War will be honoured, and the women veterans are pleased to be able to provide this tribute to the nurses and medics of the Bundaberg/Burnett region," she said.
"We will also pay tribute to 75 years of Australian peacekeeping/peacemaking.
"The wellbeing of women veterans and the honouring through commemoration of all service men and women is a continuing aim for the Bundaberg District Women Veterans.
"I am so proud to be a part of that."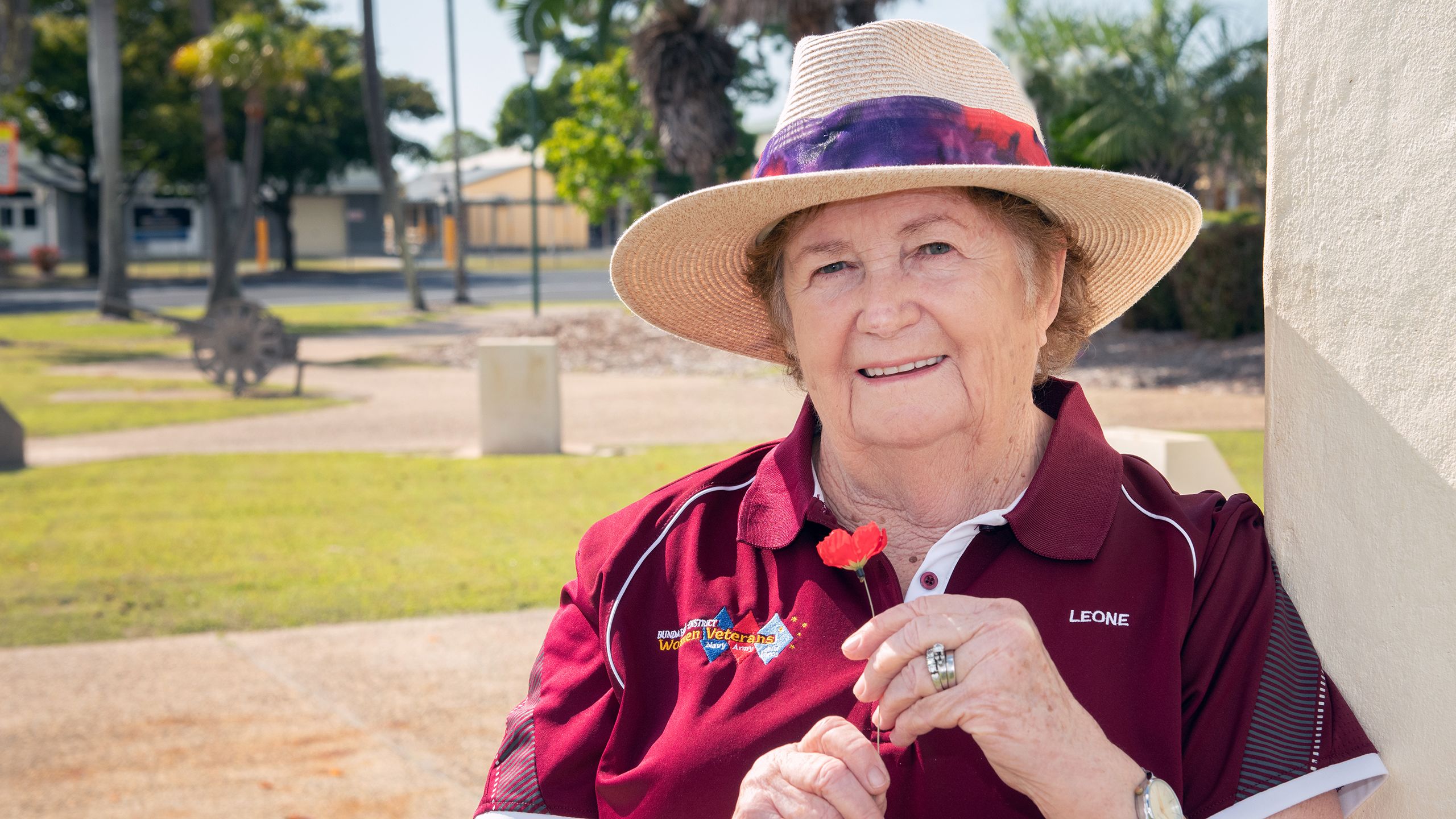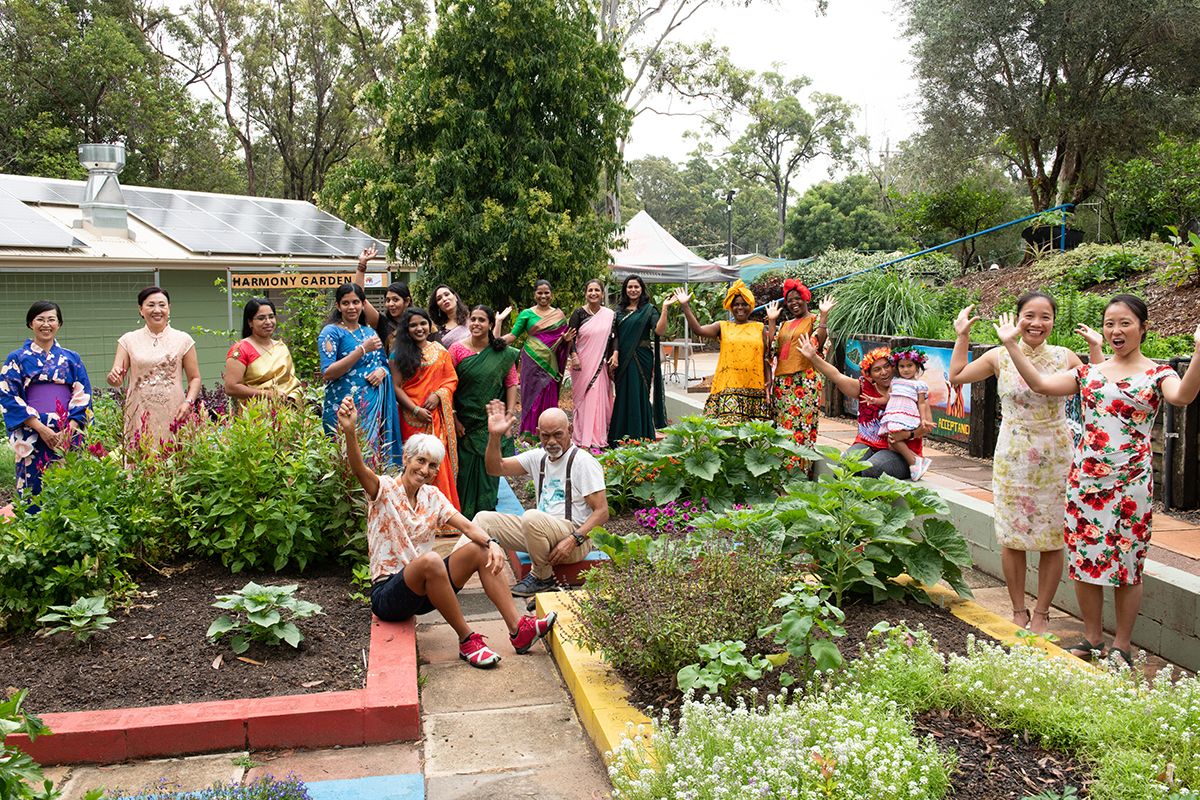 Bundaberg Multicultural Reference Group
The Bundaberg Multicultural Reference Group is made up of members who have a passion for connecting culture and community.
In 2019, the group came up with an initiative to establish a garden space where they could grow vegetables, fruits and herbs from countries around the world.
It would be a place for people of varying cultures and backgrounds to visit and enjoy and, with the help of the Bundaberg & District Neighbourhood Centre and the Tom Quinn Community Centre, The Harmony Garden came to fruition.
Multicultural Reference Group chairperson Dianne Hicks, along with the migrant settlement worker Ranjan Morris helped to coordinate the efforts of all involved.
"The Harmony Garden is a place of belonging and a connection to home," Dianne said.
"It is a place where community connections happen."
Dianne said the garden was important to its members because it was also a place that they could go to grow vegetables from their home country that were not readily available in Bundaberg.
"It has helped our multicultural society find the link to home through food such as cassava, bitter melon, okra and more, "she said.
"Meeting at The Harmony Garden has become a real social event and we have morning teas there after gardening and people bring food to share and create friendships and socialise."
Dianne said overall, the garden was about celebrating and embracing cultural diversity.
"By celebrating people, we are breaking down the barriers and we are creating acceptance and compassion for each other," she said.
"This simple initiative has generated opportunities and experiences that were never expected.
"While we learn about food and cooking from different countries, we also learn about each other."
The Harmony Garden is situated at the Tom Quinn Community Centre on Killer Street, Bundaberg.
Chris Sorensen
Chris Sorensen has been a member of the Bundaberg Vintage Vehicle Car Club since 1987 but his passion for old cars came long before that.
He said he had loved vintage vehicles since he was a child but during his days working at Qunaba Mill, Chris was able to explore this further through his interest in a vehicle that once belonged to the manager of Bundaberg Foundry, William Parry.
The vehicle was a De Dion-Bouton.
"The manager of Bundaberg Foundry in 1904, Mr William Parry, sent his foreman to London to purchase the car and it was shipped to Bundaberg," Chris said.
"An ambition of mine was to own this car and I was fortunate enough to purchase it in 1986.
"The other part of my ambition was to take it back to London to do the London to Brighton Run, and I did that with my family in 1989.
"Since then, we have done several London to Brighton runs with other cars that we have."
The popular car rally celebrates the Lifting of the Red Flag Act in 1904, which requires a person to walk in front of the car when it was driven on the streets in London.
The event has been celebrated since the late 1800s.
"One of the highlights of this event is the participants dress in the period dress of the car," Chris said.
"For our first trip my wife Jenny had made period 1904 outfits for all of us, including our sons.
"We have a photo of all of us dressed up with the De Dion-Bouton lined up with the other old cars in Hyde Park.
"It was a big effort and memorable in that the De Dion-Bouton went back to where it started from all those years ago."
Chris said the De Dion-Bouton was one of a few cars he owned steeped in history.
"It was the first car registered in Bundaberg and after many years, was sold to Bert Hinkler's sister, Mrs Queenie Palm," he said.
"I also purchased a 1903 Grout steam car in Pennsylvania.
"The Grout, like the De Dion, is a very original car with a lot of history and there is one photo of it parked in front of the Lincoln Memorial in Washington."
Chris said he also owned a 1903 Cadillac, a 1901 Locomobile, a 1906 Buick, 1911 Overland, 1915 Saxon, 1926 Lincoln (once owned by the famous American tennis player Elinor Sears) and a 1929 Rolls Royce Sedanca deVille.
These days, Chris gets to enjoy his cars even more in retirement and recently participated in the re-enactment of the London to Brighton in Burnett Heads with the Bundaberg Vintage Vehicle Club.
He said it was an opportunity to give Australian vintage car owners who couldn't attend the event in the United Kingdom a place to celebrate locally.
"I am often asked what the attraction is of going all the way to London and taking a car to do this run," he said.
"My answer is: it's the thrill of driving such an old car through London.
"Past the Palace down the mall, past the Houses of Parliament and Big Ben.
"Over Westminster Bridge and then all the way to Brighton – it's an incredible experience."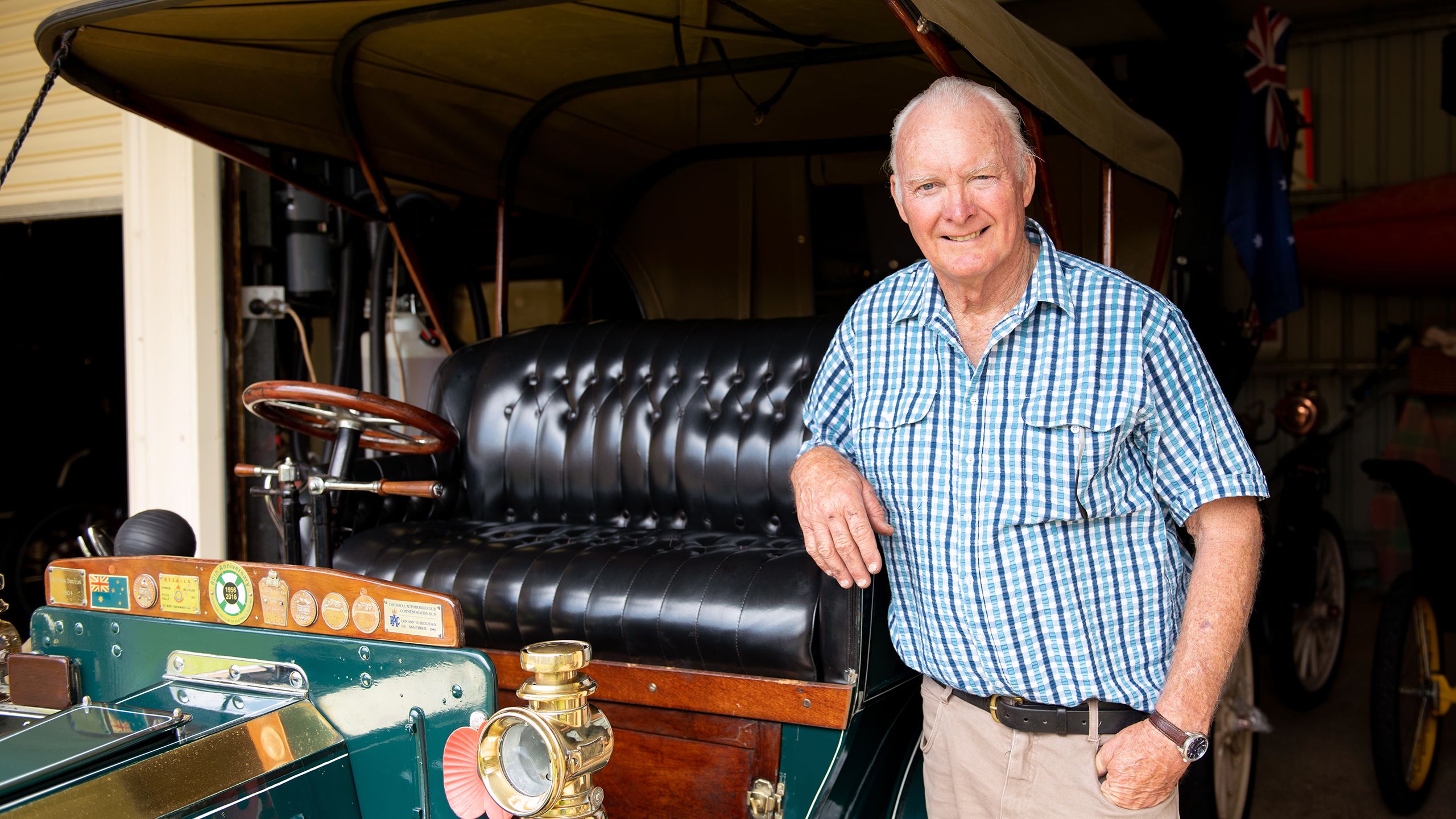 Bundaberg Regional Suicide Prevention Network
Driven from a passion for helping others and a connection to the community, eight locals banded together in 2018 to establish the Bundaberg Regional Suicide Prevention Network.
The local organisation includes a mixture of professionals and community-minded people who help to create awareness while connecting residents to services available in combating the scourge on society that is suicide.
Chair David Facer said being part of the Bundaberg Regional Suicide Prevention Network was about encouraging the community to make conversations with one another.
"Being involved in the network is being a part of developing something greater than yourself, endeavouring to save life through sharing time and knowledge with a wider community who may be losing hope," he said.
"Although the national awareness day is marked on September 10, suicide prevention is a daily activity and increasing our awareness as individuals and as a community goes a long way to achieving a better, more caring community for the future."
Network member Chris Foley added that the organisation was focused on preventing suicide through connection, collaboration, and education.
"What drives me to be part of this group is doing what I can to have a positive impact in someone's life by creating supportive relationships throughout the tough periods," Chris said.
"We are community-orientated people working together to combat suicide."
Since the establishment three years ago, the Bundaberg Regional Suicide Prevention Network has hosted a number of community events and initiatives.
The organisation was responsible for the Resilience Forum in 2019, the annual Out of the Shadows Walk and the school art exhibition, Dog Walk for Suicide Prevention, in 2020.
Committee members are also heavily involved in R U OK Day, World Suicide Prevention Day and Queensland Mental Health Week events.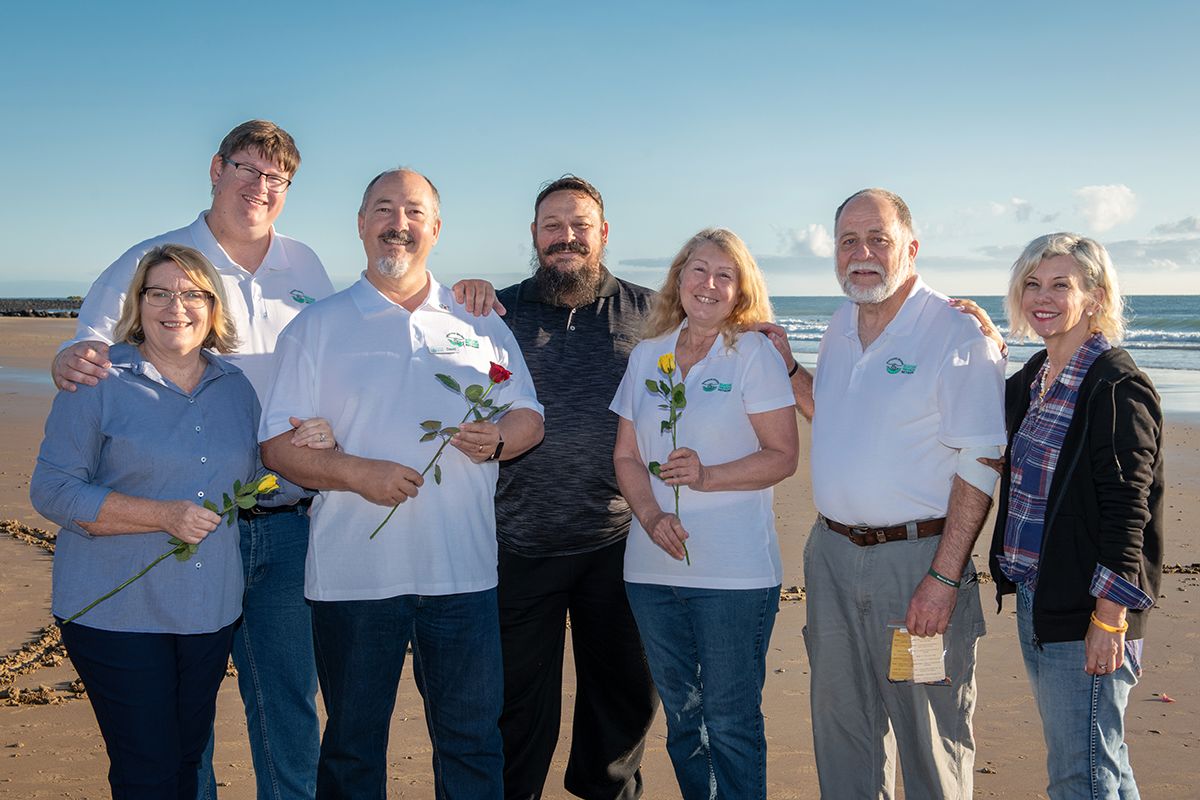 Lyn McIlwain
Long-time Burnett Heads resident Lyn McIlwain is no stranger to community spirit, she helped the local kindergarten grow to the thriving, positive space it is today.
Lyn moved to the seaside community in 1976, with her late-husband and her children.
Trained in clinical nursing and midwifery Lyn decided as well as a sea change, she needed a career change, and so applied for a job with C&K Oaks Beach Community Kindergarten.
More than four decades ago, Lyn recalls the start of her role at the kindergarten.
"In the old hall the Burnett Heads Kindy started in 1970, and they already had a couple of teachers," she said.
"They weren't funded and relied on raffles at the pub, lamington drives, bush dances and more."
Shortly after her start, Lyn rallied the community together to build a permanent space for the kindergarten, garnering support from the Bargara Lions Club and Apex Clubs.
In the early stages of building, she recalls being told "just make a few cakes ladies, and you'll succeed."
But with Lyn's tenacity and drive, she knew they would need more than cakes to fulfil the community project.
"Tafe students assisted in the build and Duffy's buses would bring them down (to help)," she said.
"East Bundaberg Rotary put the trusses up on the roof. I did rely heavily on community services to assist."
After almost a decade of living in Burnett Heads, Lyn's dream had arrived, and the kindergarten was fully functioning.
"We opened in 1986," she said.
"The State Government offered land and Council gave us 50 loads of fill and did the carpark all for nothing.
"We got $2,000 from State Government and $2,000 from Local Government.
"We had it paid off in four years, but mainly from the 5,800 lamingtons we made once a year!"
Leaving her role at the kindergarten some 20 years later, Lyn said it was now fully funded and continued to be a thriving, positive space for children today.
"I want to thank the community's unwavering generosity and support towards a permanent educational facility for the adults of the future," she said.
"It takes a village to raise a child and I am so proud of our unique village and surrounding areas."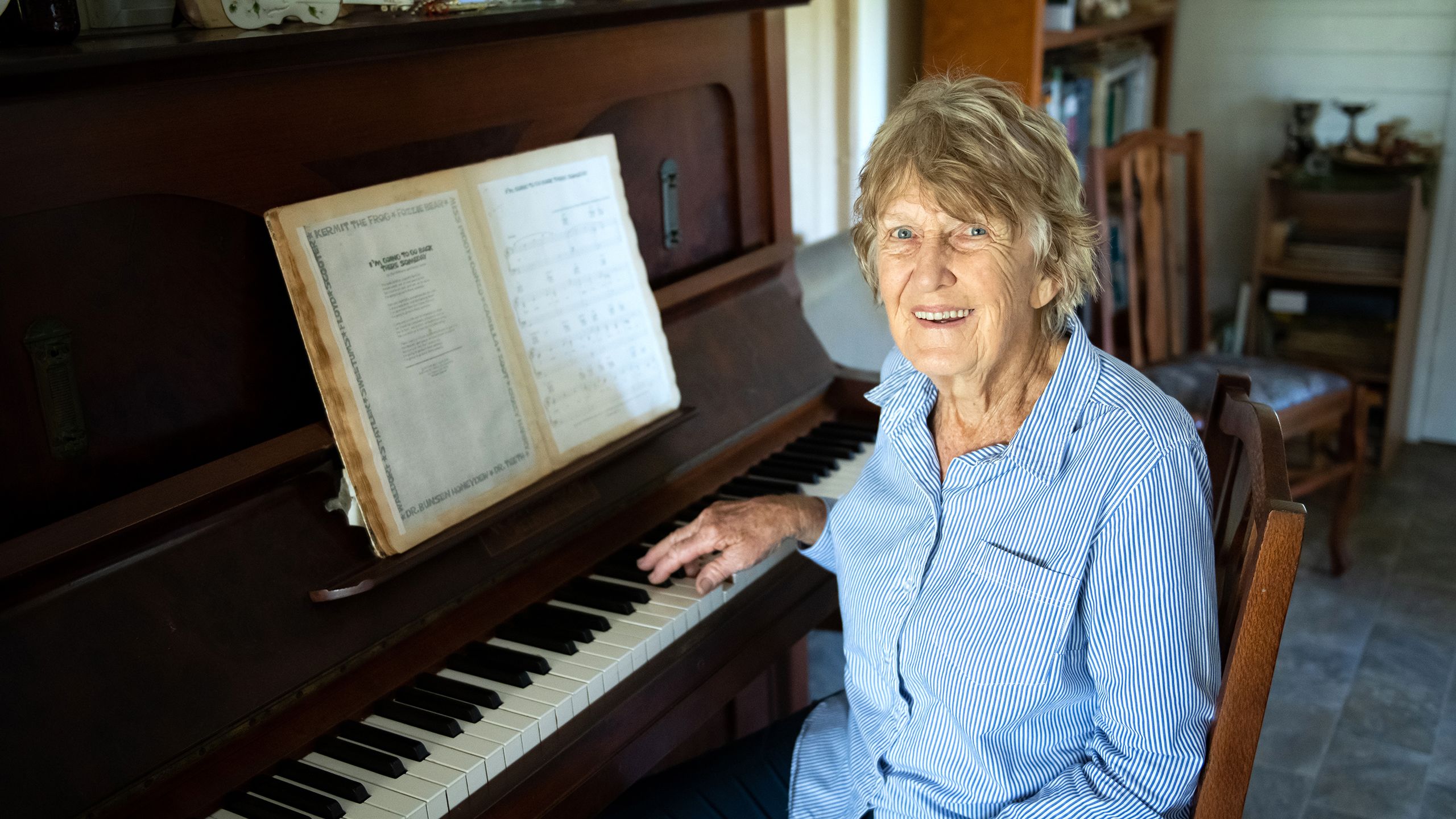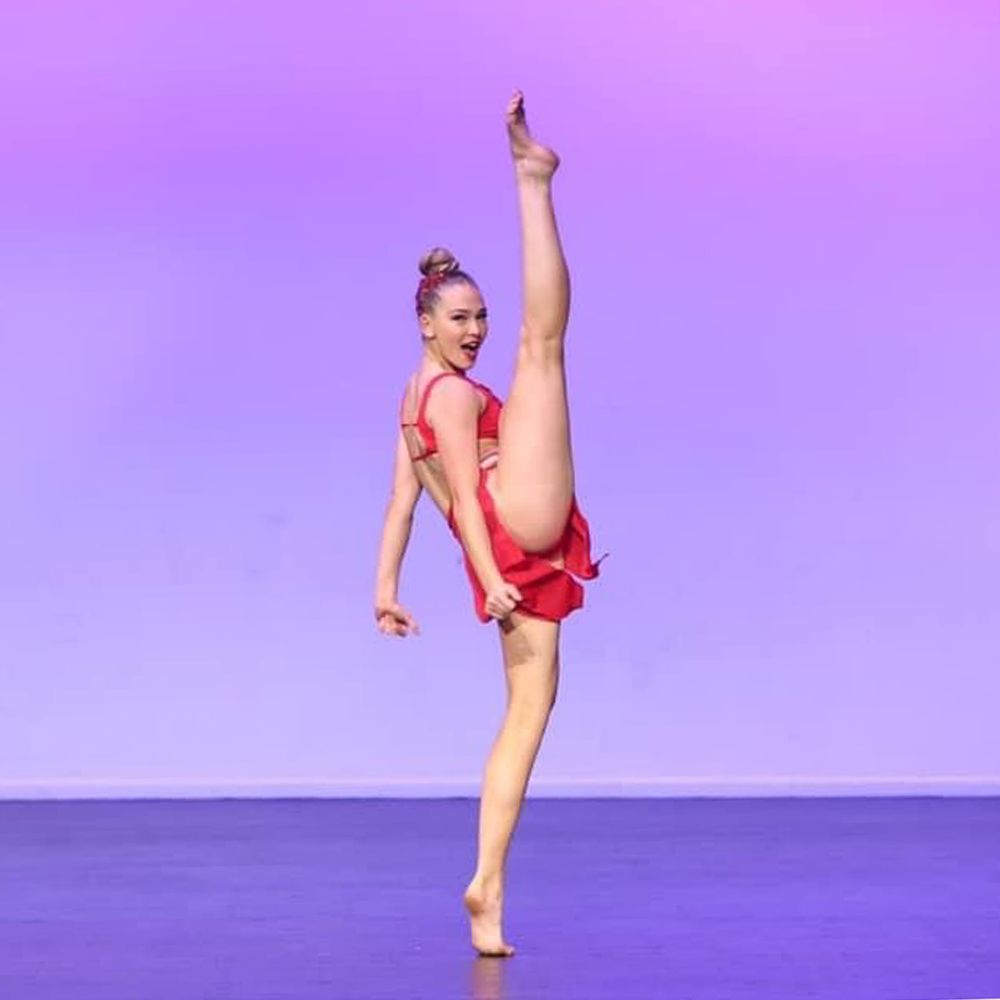 Imogen Runge
Imogen Runge is a passionate 17-year-old who believes in working hard to make her dreams come true.
She is a dedicated young woman who juggles competitive dance, study, work and family, while passing on her dance skills on to others.
Imogen and her family moved to the Bundaberg Region when she was four which she said opened her up to the world of dance.
In July this year, the teenager danced her last Eisteddfod solo on the same stage that she performed her very first Eisteddfod solo as a four-year-old dressed as a bumblebee.
"I've always been active and always done something, I've never been able to sit still," Imogen said.
Her love of dance started with ballet and gradually developed into a contemporary style as she developed her foundation dance skills.
"I only ever did ballet and jazz solos, so when I got older, and matured a bit more, my teacher allowed me to compete with contemporary solo's at around 11 years old," Imogen said.
"Contemporary and lyrical are my favourite styles of dance."
Imogen's mum Joanne dances with Imogen at TNT Dance Studio and said her daughter was a very hard worker.
"Last year she was rehearsing for 15 hours, teaching and holding dancing classes every week," she said.
"If Imogen wasn't in the studio attending classes, she was training in the gym or gymnastic studio to maintain her skills.
"During peak Eisteddfod season, Imogen was easily practicing 20 hours per week.
"She is a very dedicated young lady."
Imogen said she felt mature for her age and having a positive outlook on life allowed her to pursue her dreams.
"Before COVID happened, my dream was to dance, and I wanted to go away and dance fulltime and audition for dance companies," she said.
"So, I've had to go to plan B and I'm heading off university, but I will return to dance once the arts industry isn't so heavily impacted."
Imogen said her life revolved around dancing, but in her spare time she can be found working at Domino's, Boost Juice and teaching at the dance studio.
"I like making people smile," Imogen said.
"At work I compliment people to make them happy and make their day and I like having the ability to make them smile.