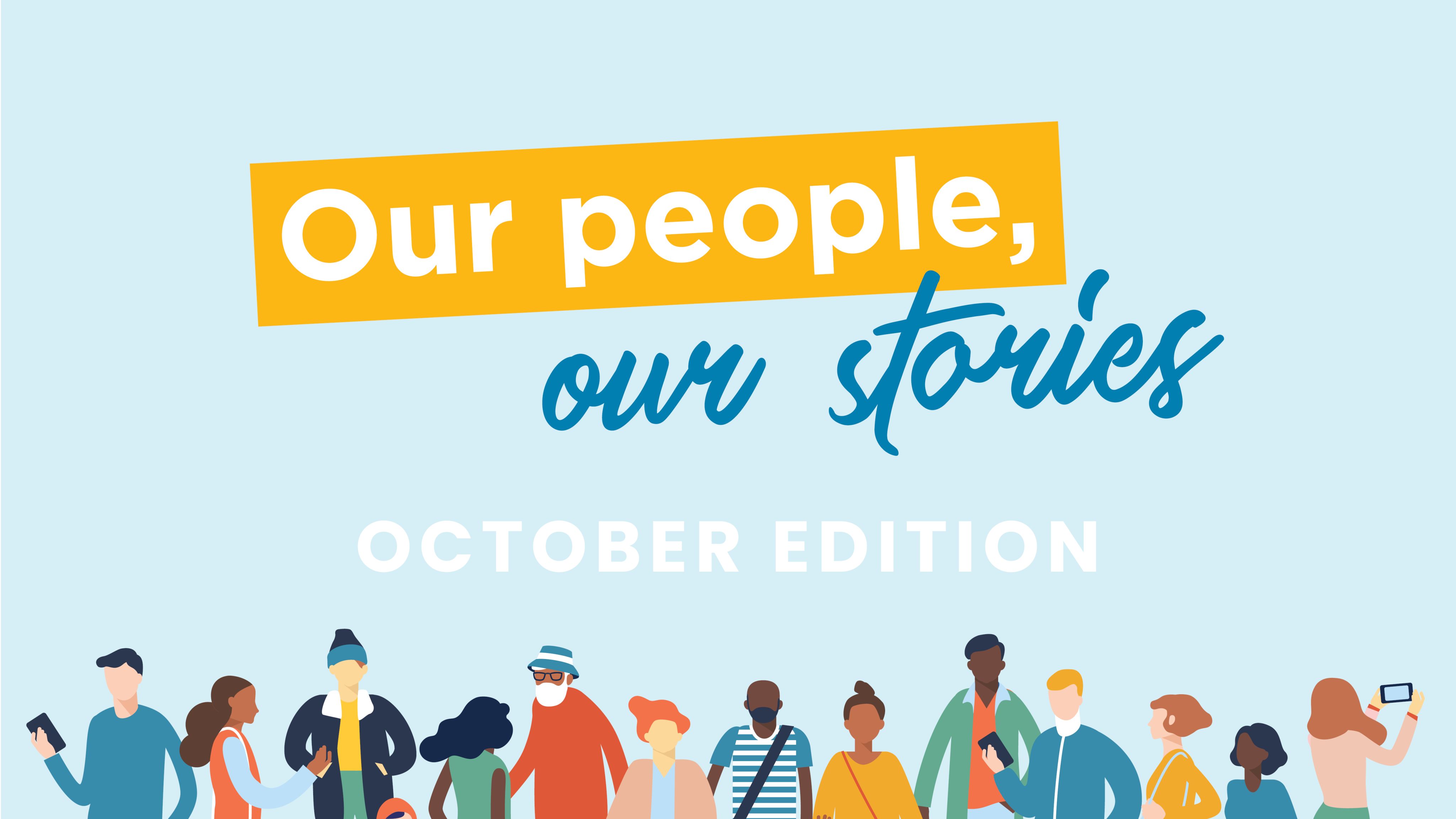 Marina Anderson
Local elder Aunty Marina Anderson is proud of her history and heritage.
Her passion for her culture is what drove her to start the Wan'di Aboriginal Corporation in Gin Gin where people meet frequently for discussions and celebrations. 
"Wan'di means gather together," Aunty Marina said.
"People came on board and decided, because there wasn't much happening in Gin Gin, to form the Wan'di Aboriginal Group to try to push for more culture."
Aunty Marina said showcasing culture to the community, especially to the younger generation, was important to her.
"We would like to see more involvement, looking after the land, learning about culture and sharing and helping one another," she said,
"How we have it today, if you want to find out about anything you will find it on Facebook instead of talking to one another!"
Aunty Marina said she had always been a proud local of the Gin Gin area and surrounds.
She was born in Tirroan in 1934 and eventually moved to Truslon Street, Gin Gin and has been there for 50 years.
It was chaotic times growing up, according to Aunty, who said with nine brothers and sisters in the family there was always plenty happening.
"We never had a fridge and lived on a dirt floor," she said.
"My brothers taught me how to ride my bike, there were lots of bloodied knees!
"I went to primary school until age 14 then I started working."
Aunty Marina said her parents worked hard to support the family, with her Dad taking on many roles including a jockey and a drover.
"Dad was even asked to take horses over to India in the Second World War, but he said no because he didn't want to leave Australia," she said.
"My brothers had to miss school because dad had to do droving and they went with him, all the boys worked with horses."
Aunty Marina said she had grown up with a great respect for her hometown, her culture and her way of life and hoped the same sentiment would be passed on to others in the future.
 "If you look after the land, the land will look after you," she said.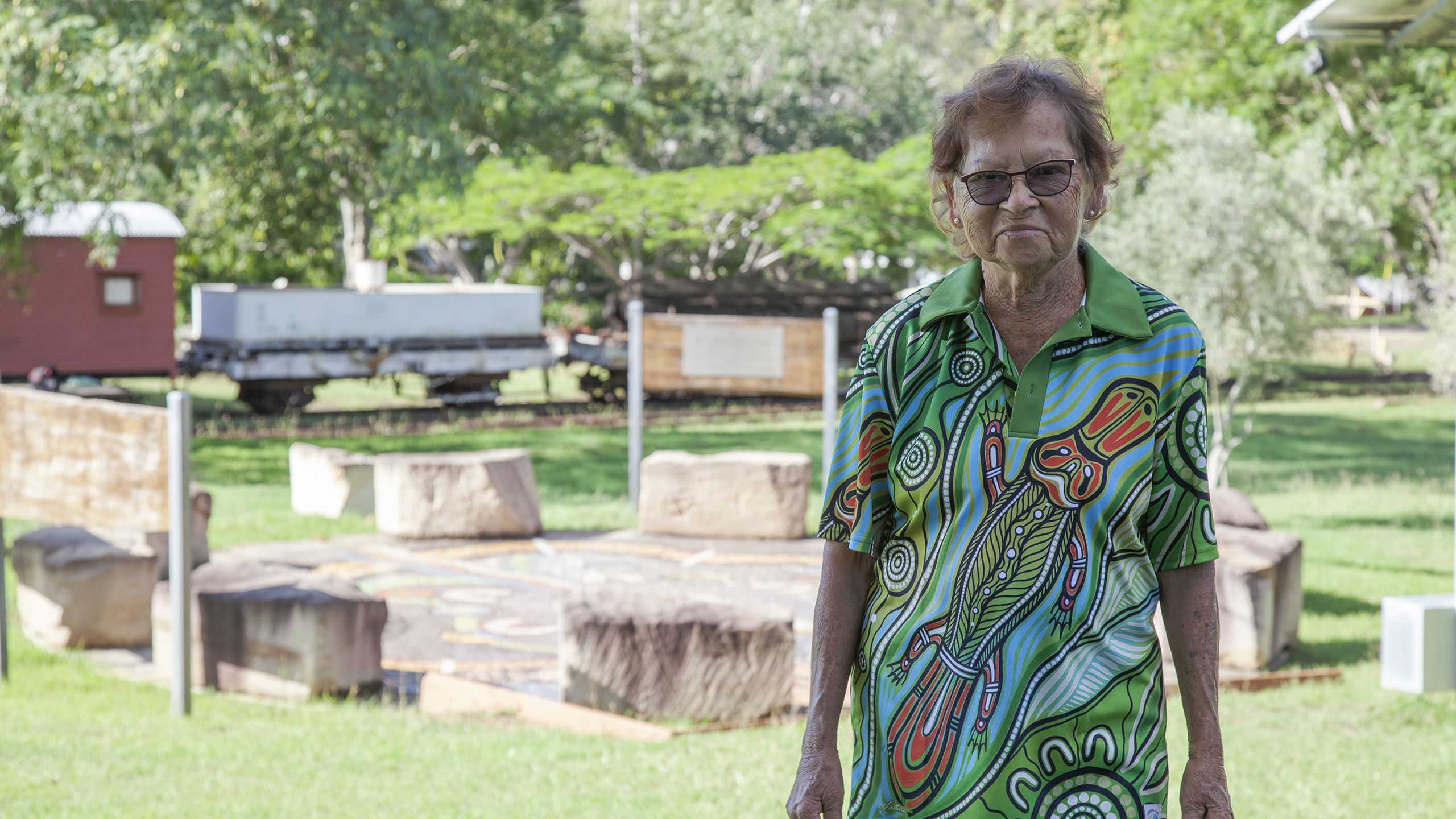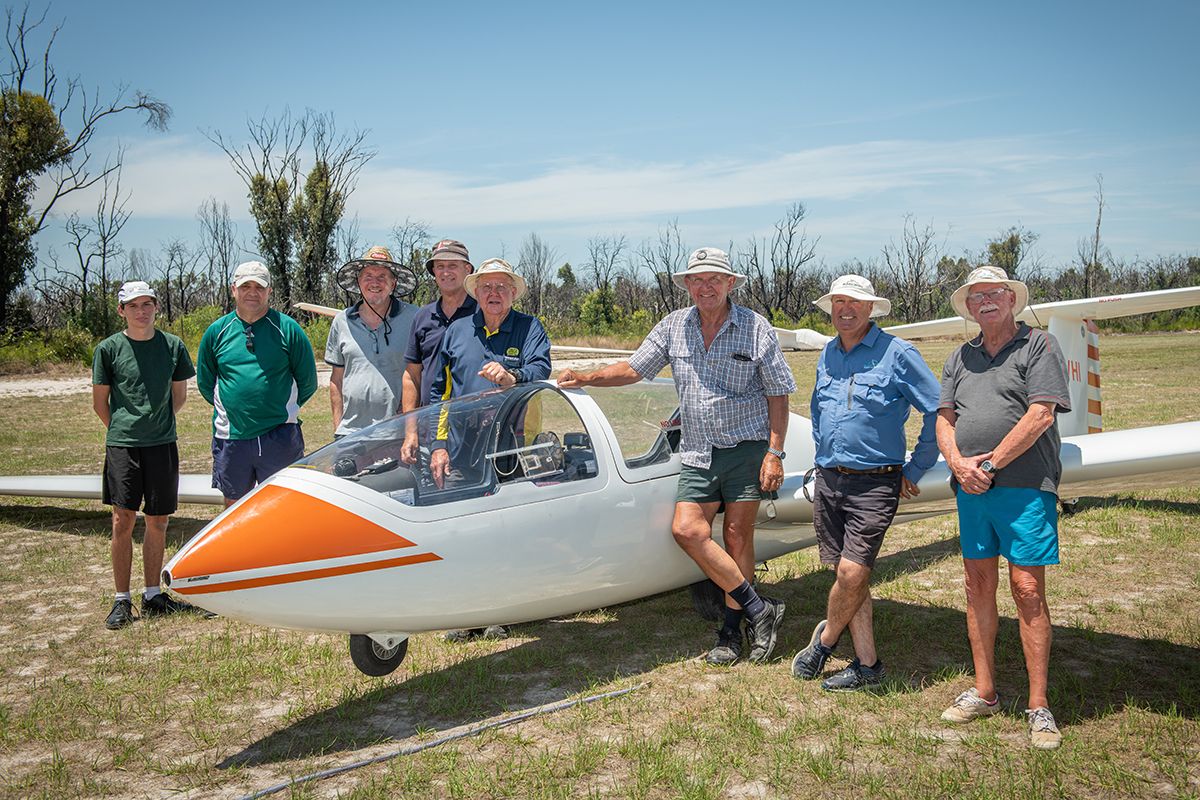 Grant Davies
The Bundaberg Gliding Club is made up of a small but dedicated group of locals who offer their services to teach people of all ages how to fly.
The club has been operating for over 50 years and is open to all who wish to enjoy pure flight without a motor.
One of the club dedicated members is Grant Davies, club president and chief flying instructor.
Grant always wanted to be a pilot. 
On his 40th birthday he decided to live out his dream by looking into purchasing his first plane with help from the Bundaberg Gliders Club.
It was when the group agreed to take him up for a joy ride that spurred even more of a love for flying in Grant and now, almost 14 years later, he has purchased his own aircraft.
"I get to fly and introduce people to flying and it fills me full of joy," he said.
"I ride a 2010 Triumph Thunderbird and fly most weekends at the Gliding Club. Life is good!"
Grant has also followed many other passions throughout his life, including volunteering with the Rural Fire Brigade for 25 years.
"It is a selfless job; nobody really understands unless they are involved," he said.
The Bundaberg man said he was also passionate about the community, which has been highlighted through his ownership of CBD Realty for 15 years, his work to develop Kookaburra Park near Gin Gin and his participation in the CBD revitalisation group.
"Working in the city centre helped me to get to know a lot of people, to create community in a different way and to be involved," he said.
"I had this vision; to know and be known in a community and to be a part of it."
Grant said he had learnt a lot through his many different careers and roles within the community and he was always mindful to provide support to others wherever and whenever he could.
"Practice selflessness, communication and visualisation," he said.
"We get more from giving than receiving."
Leanne Lawrence
Described as "a real-life superhero" Leanne Lawrence has a strong dedication to helping others through various roles she has taken on within the Gin Gin community.
Leanne has been recognised as a strong and independent female leader as part of Bundaberg Regional Council's Our People Our Stories initiative.
Currently, Leanne is the school chaplain for Gin Gin State School and Mt Perry State School, with some students affectionately calling her "Miss Chappy".
"If a teacher notices something isn't quite right with someone, they let me know and I catch up with them to help them work through it," she said.
 I often use different analogies for the kids to help them become aware of their own potential and what they can achieve."
Leanne's journey to becoming "Miss Chappy" came from a background of helping as she worked with the Queensland Ambulance Service for 10 years between the Bundaberg and Gin Gin communities.
"With my new job as a chaplain, I wasn't able to work enough hours with the ambulance service to maintain my skills, so I had to finish up, even though I really enjoyed it," she said.
"Then, a position as a fire fighter became an option for me to stay involved with the emergency services.
"My brother had been in the fire service for several years and he asked if I had ever thought about joining.
"I thought of it as a bit of a boy's job at first but then I decided, well I can do all of those things!"
In 2013 Leanne became a fire fighter and said she loved every minute of her role and is still involved in the service today.
"I love the comradery within our crew and the support we give each other," she said.
Leanne said her commitment to giving back to the community and passion for helping and supporting others had been instilled in her from her own parents. 
"My dad was an ambo for 28 years and my Mum was heavily involved in fundraising for the ambulance and was always a part of the school P&C when I was growing up," she said.
"The Gin Gin State School creed 'We are a community working together to be the best that we can be' really resonates with me.
"My faith gives me the strength to get through the tough times and motivates me to want the best for my community.
"I love my community and that's why I do what I do. 
"Surrounding yourself with people who fill up your cup is also important."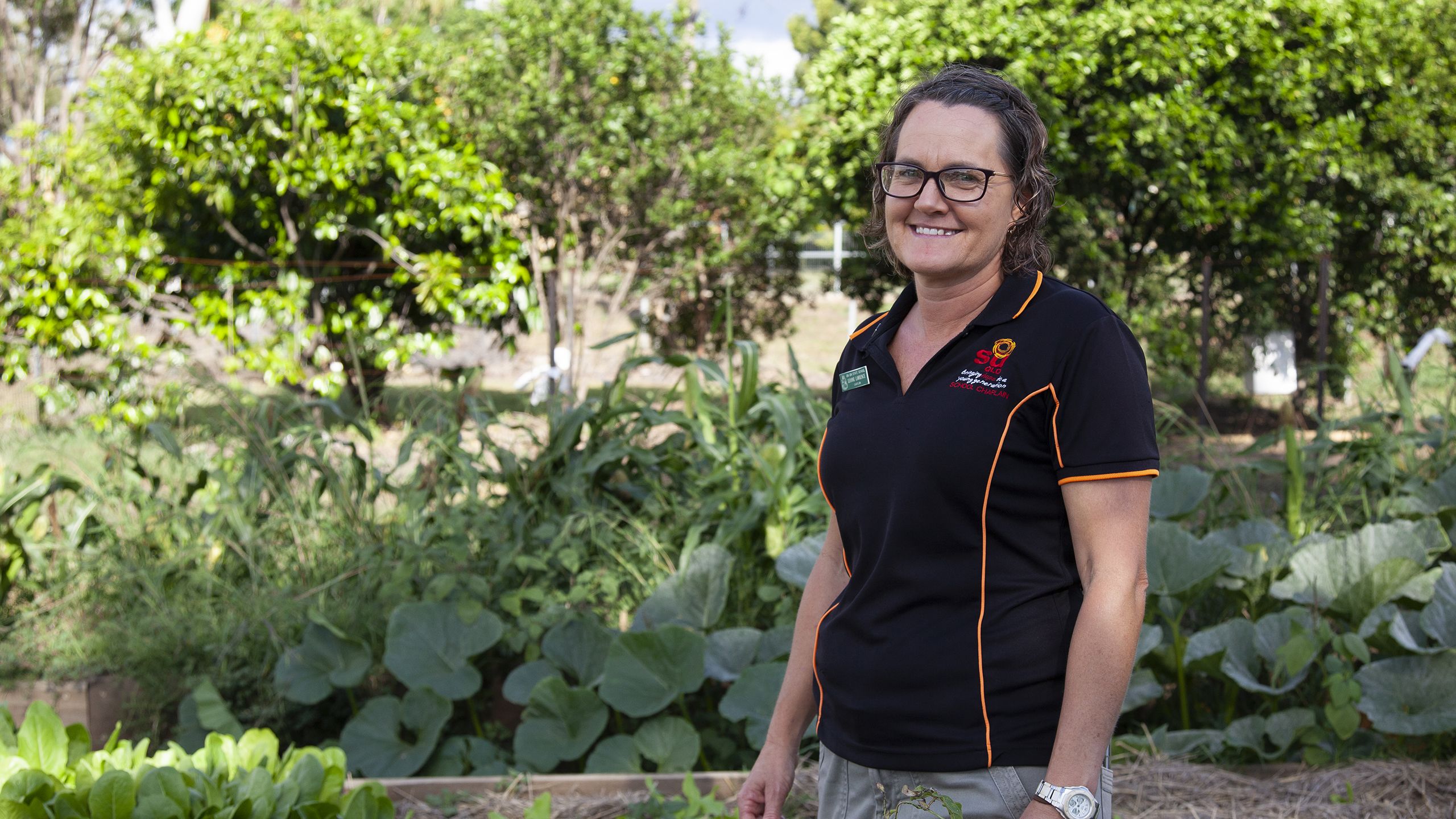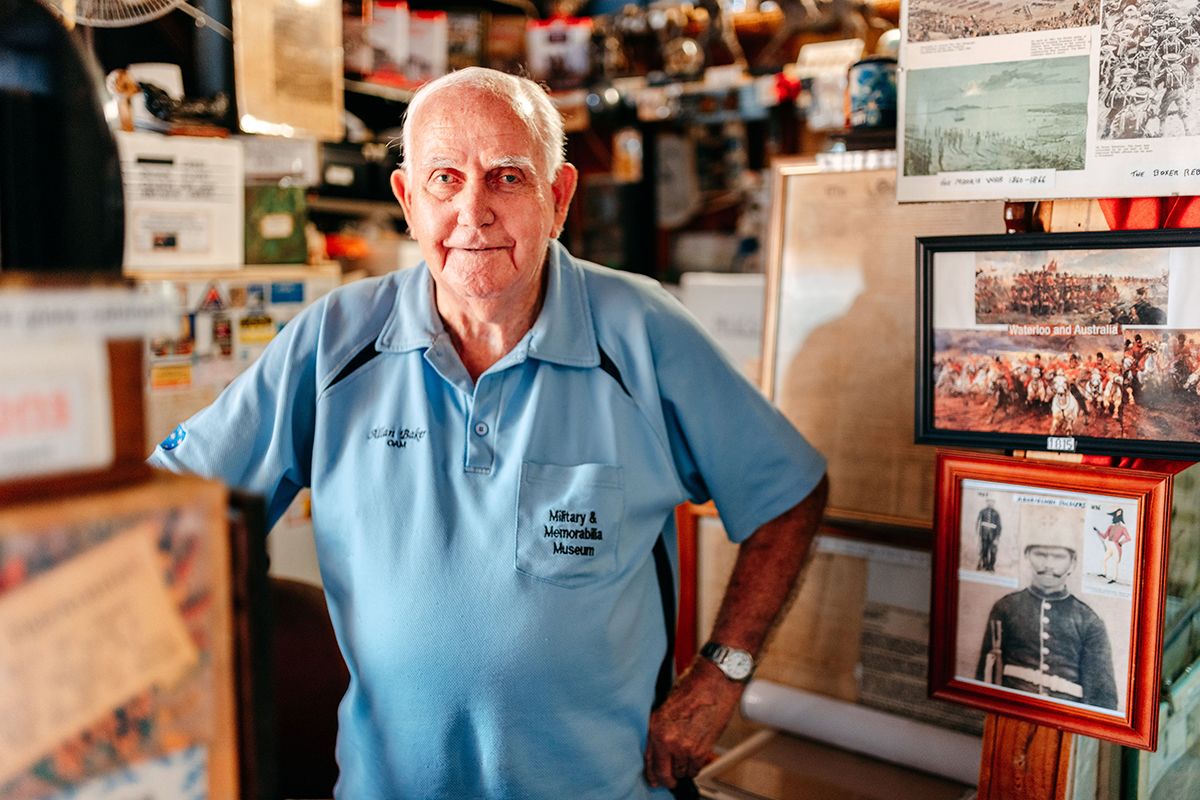 Allan Baker OAM
A passion for preserving history has been an important part of life for Childers man Allan Baker OAM.
The 85-year-old is well known in the region for his unique business called Bakers Military and Memorabilia Museum where treasures and trinkets dating back centuries fill the shelves.
"Up to 90% of the memorabilia is donated from all over the world," Allan said.
"A few months ago, a young girl came in and laughed at the old wind-up phones because she had never seen one.
"I said without them, you wouldn't have what you have now!"
Allan has always had an interest in history and the military ever since he was a young boy and growing up, this was spurred on by his family's involvement in various wars.
"I am the youngest of eight children - one girl and seven boys and I am 15 minutes younger than my twin brother," he said.
"I was between the wars. I was a nationalist in 1955 then discharged in 1961, in the artillery for six years and was on call twice in 1957 once to go to the Nepalese and once to go to Asia.
"I had four brothers fight in WW11, two in the army, two in the navy. Dad was in the light horse and so were two of my uncles."
After moving to Childers in 2002 almost 20 years ago, Allan said he began filling up his shop with interesting items and these days, he shows no sign of slowing down the family business.
"What's the plan for this place? My sons and daughter will carry this on and then it will be given to my 20 grandchildren and 27 great-grandchildren," he said.
"All of the items that has been donated will stay with the Baker family."
Besides his love for his museum, Allan also gave his time and effort to the community over the years, especially through the establishment of Neighbourhood Watch.
"I was one of the founding members of Queensland Neighbourhood Watch and Director of Queensland and was awarded an Order of Australia Medal," he said.
"In 1988 we had heard about the organisation in New South Wales and we thought we could do that here.
"We would have 120 people attend the monthly meetings in Maryborough and we had some really good times."
Allan said volunteering and being part of the local community was something that he had always enjoyed and urged others to do the same.
"There are so many things you can get involved with," he said.
"Just go volunteer with the SES or Rural Fire Brigade, I was involved with them for seven years.
"Live in unity. Don't go one way and think you are better than the other, work together."
Aileen Munro
Born in Australia, and of Sri Lankan heritage, Aunty Aileen Munro is a local Gin Gin elder whose influence has helped spread knowledge and education to others through the Jinjinburra Aboriginal Corporation.
The organisation was founded by Aileen's husband, the late Ron Munro, in 1993.
It was his vision to share his culture and skills in artefact making and painting to local aboriginal youth, the community, and surrounding schools.
Aunty Aileen said she had carried on Ron's legacy and passion for the corporation ever since his passing.
"It was Ron's aim for all people to understand," she said.
"He made the traditional artefacts and went to the schools to tell the story.
"He didn't just want the Aboriginal people to know, he wanted everyone to know."
Aunty Aileen said over the almost three decades that the corporation had been established, she and Ron and other family members would create artefacts to display to the community through various events such as NAIDOC celebrations and more.
"We would find the right trees to make the didgeridoos and Ron would craft them and paint them," she said.
"I have a photo of him somewhere with his vegemite jar full of paint brushes and he is sitting there painting a didgeridoo.
"I said wow, you can't get more Australian than that!"
Aunty Aileen said it was her hope that the Jinjinburra Aboriginal Corporation would continue to inspire people of all generations to learn more about local culture.
"In ten years' time I hope that people can come here and do workshops," she said.
"We want to have the schools come here to learn and, especially for people that have left school and have nothing to do, they could come out and do some woodwork and they could be taught about the culture."
She said although the corporation was a group effort, it would always mean something even more special to her.
"I want to make all of Jinjinburra for Ron. It will always be his."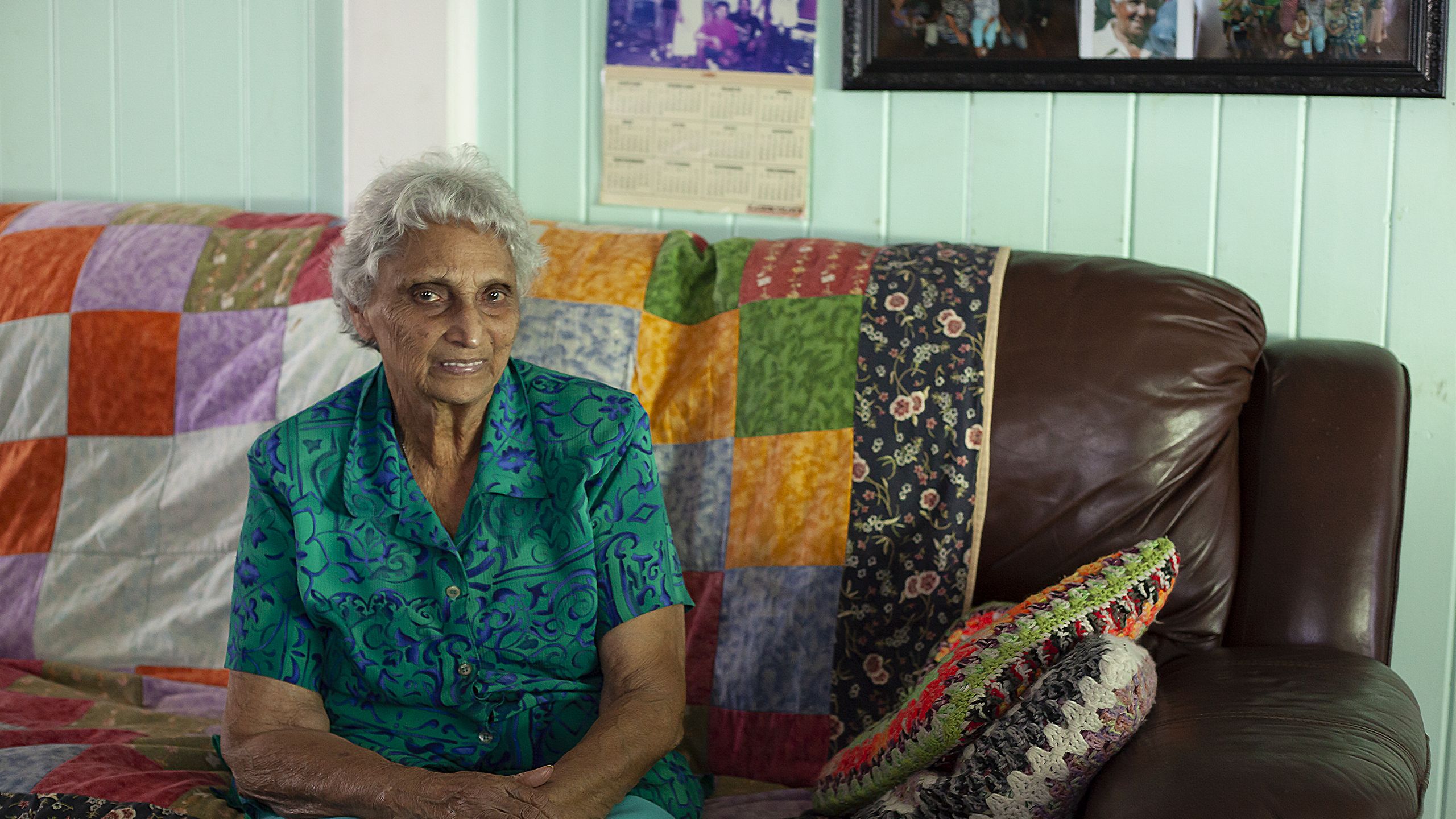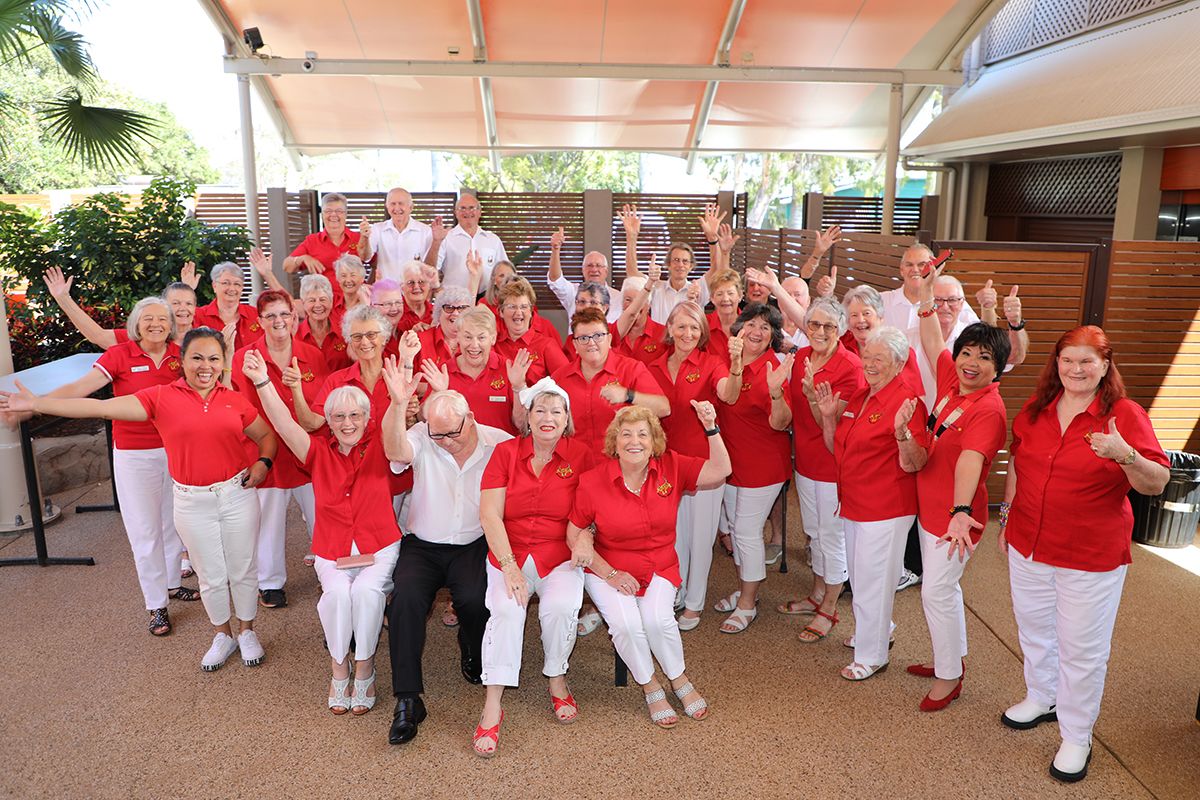 Bundy Flukes
Creating beautiful melodies while strumming four simple strings, you won't find a happier group than the Bundy Flukes.
The group of ukulele players evolved after founder Wendy Mills, along with her husband Wally, decided to start teaching others the musical instrument they were so passionate about.
"I was playing the ukulele by myself and teaching at U3A and at the end of the year we decided to form a group," she said.
"We had a competition to come up with our group name and Bundaberg Fun Loving Ukuleles was chosen.
"It has been shortened to Bundy Flukes which is what we are known as now."
The group recently came together at a celebration showcasing 10 years of fun and friendship.
Wendy reminisced on the many years she had spent playing the ukulele, and said the formation of Bundy Flukes was something she had always wanted to achieve.
"It's always been a dream of mine since I was quite young," she said.
"I've played the ukulele since I was 10 and I have always thought it would be wonderful to have a group to enjoy playing along with.
"I really do feel the ukulele is an extremely happy instrument and you can't help but be happy and joyful when you're playing it
The Bundy Flukes has been extremely popular over the years, participating in a number of concerts and regular performances at venues and entertaining people through various organisations.
Wendy said while the ukulele might seem like a small and simple instrument, it actually came in various sizes and forms.
"I've got several different ukuleles and they have all got different sounds," she said.
"We have a bass ukulele, the club bought one a few years ago and it just gives extra rhythm."
The "Bundy Flukes" was run by Wendy and Wally until 2019, when health issues made it necessary to hand over the reins.
The group is now an incorporated association, with a committee and weekly meetings are run by Julie Myers.
"I am just very, very delighted that the group is still going after 10 years," Wendy said.
"Long may it continue."
Ian Watson
Bundaberg man Ian Watson has had an extensive career as a pilot and aircraft engineer which has taken him across Australia and the world.
He has been recognised for his work at his former local business called Watson's Aviation, which was established in 1997 at a hangar at Bundaberg Airport and focused on aircraft repairs and rebuilds.
"In that time, we also used to build the wings and centre section for the replica spit fire fighters," Ian said.
"Some were pretty extensive rebuilds from age, corrosion, neglect, fatigue.
"On the side we built 33 sets of spitfire wings, and each was about 200-man hours... it kept my staff in jobs.
"We had between six to eight people employed for about 10 years."
Before his Bundaberg business was established, Ian said he got his start in the aviation industry after becoming a diesel fitter mechanic.
"I went to Papua New Guinea as a mechanic in the Sepik River area and got involved in building air strips in remote areas," he said.
"I worked as both a mechanic and improving existing airstrips and while I was doing that, I had the opportunity to have a go at flying which is where I first started to learn to become a pilot."
Before locating to the region, Ian said he worked on many different locations with planes and was even employed as a pilot mechanic on a cattle station during 1980 and 1986.
"I did a small amount of crop work spreading and dropping fertiliser over crops," he said.
After moving to Bundaberg and operating Watson's Aviation for more than a decade, Ian went mobile as an Aircraft Engineer.
"I also got involved in a research and development project for an overseas military developing a drone engine in partnership with the Australian Government and a small team," he said.
"We spent nearly 12 months converting a Jabiru engine for use as a drone engine for the military.
"We had lots of failures; we had more failures that we had successes, but you learn a lot from failures. Eventually we got some pretty smart stuff that worked and, in the end, it was relatively simple."
Nowadays, Ian has put his pilot licence away and spends his time teaching backpackers the English language and the "Aussie way of life".
He said while he had achieved some amazing and technical things in the world of aircraft engineering, he would always be old fashioned at heart.
"I've lived most of my life without ever having a phone," Ian said.
"Same with flying I don't even use a GPS, I just turn that off and use the old DED system, Deduced Reckoning Navigation.
"My motto in life is just do the very best you can with what you've got and if you haven't got much, just do the very best you can."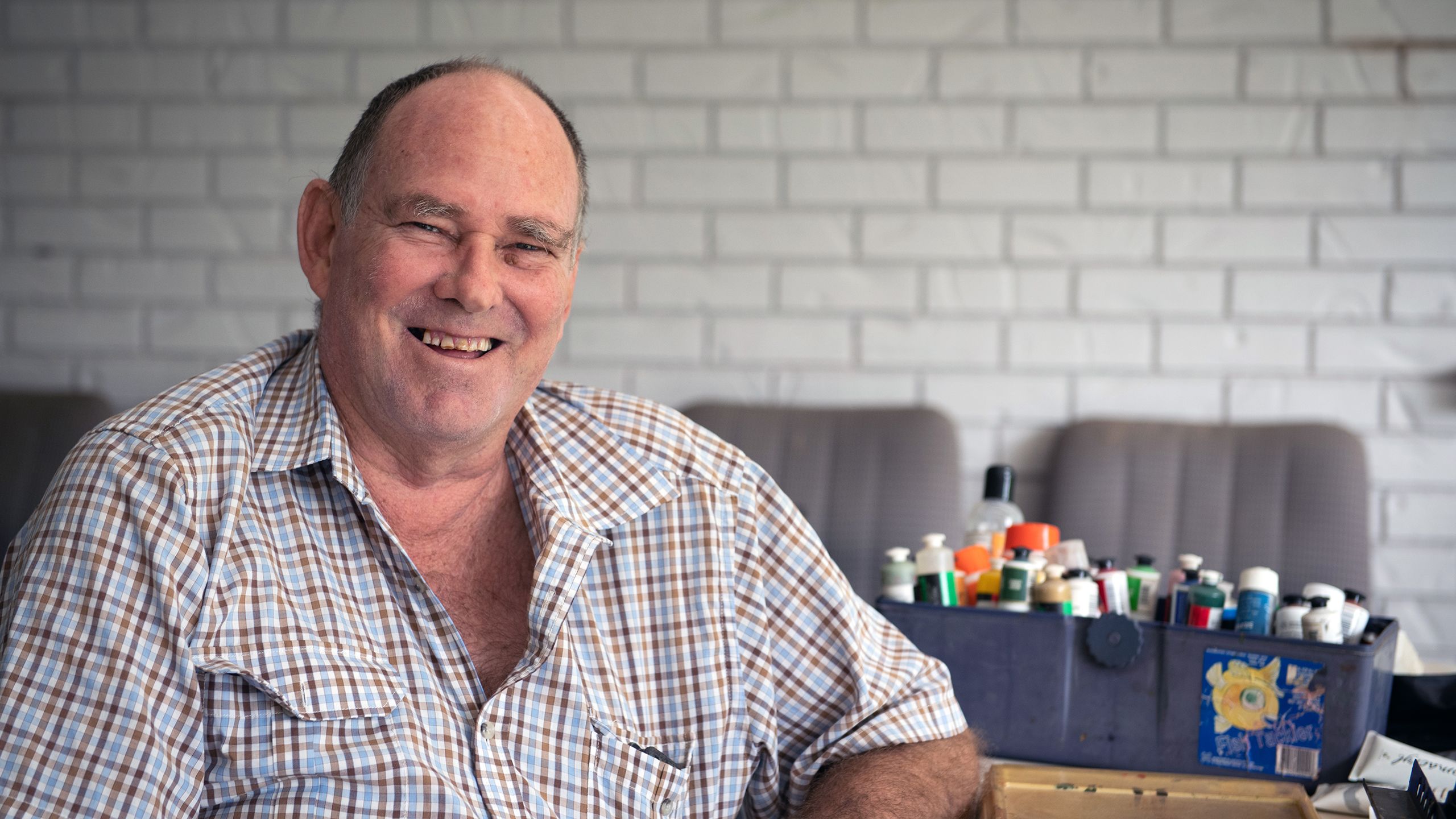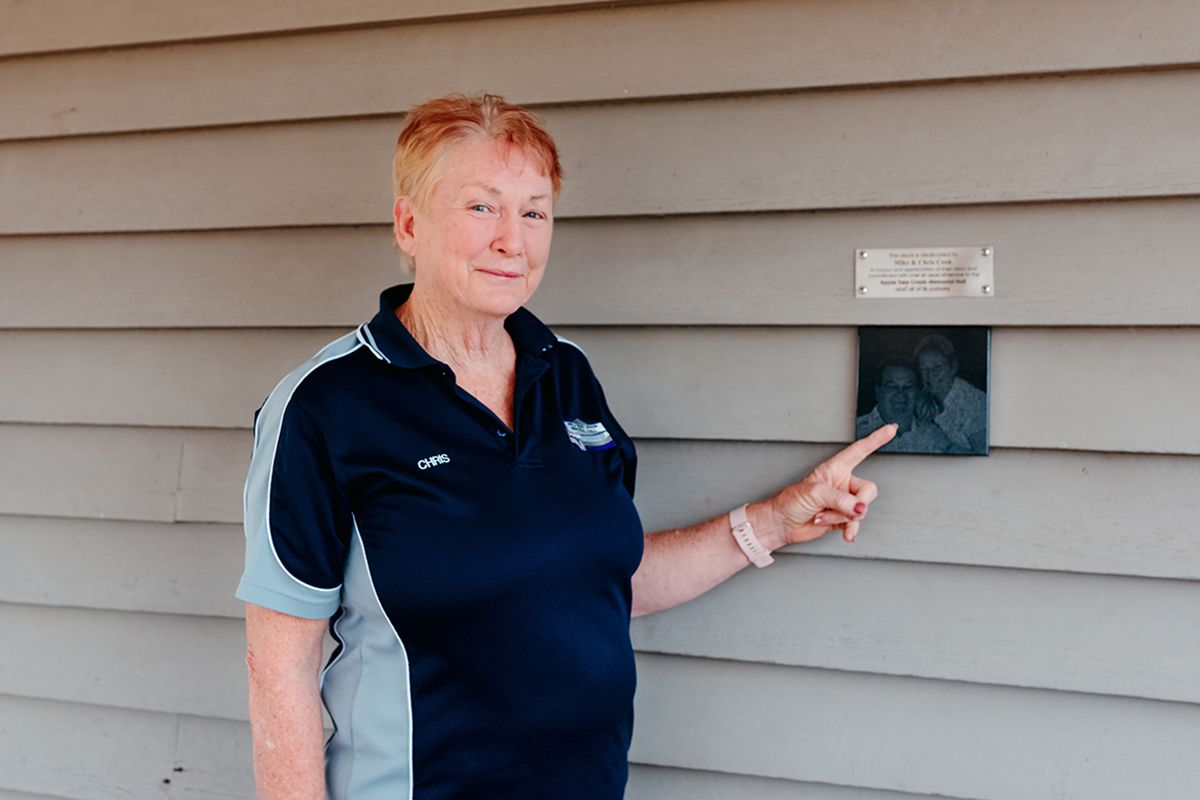 Chris Cook
Chris Cook has always loved to dance.
The Childers local, alongside her late husband Mike, spent many years teaching people different dances as part of their classes at Apple Tree Creek Memorial Hall.
It was a place of joy for many with plenty of dance events and celebrations, including the tradition of the Apple Blossom Ball, providing a space to move, groove and have a good time.
"Mike and I taught hundreds of debutants to dance over the years," Chris said.
"We also hosted a dance party for the kids, movie nights, old time dancing, belly dancing, line dancing, modern dancing, cloggers and more.
"Dance lessons were held weekly on a Wednesday night at Apple Tree Creek Community Hall and we would have special events and dress up once a month."
Dance lessons have not resumed at the ATC Hall since COVID impacted classes in early 2020.
The Childers woman has looked back on her life as part of Bundaberg Regional Council's Our People Our Stories initiative and said she threw herself into dancing and teaching after finishing Year 10.
"After school I went on to land a job at Isis Body Works for over a decade," she said.
"I was at Isis High School as a teacher aide, work experience coordinator and in the office – I just loved it.
"My husband Mike drove the school bus, he assisted with manual arts and he drove the kids to TAFE in Bundaberg."
Chris said Mike passed away five years ago and had left her with beautiful memories of a passion for dance that they both shared.
And even after suffering a life-changing incident which left her permanently disabled, Chris said she still managed to "keep on dancing" for Mike thanks to the many wonderful people who had supported her.
"I had an accident at school and fell backwards and hit my head," she said.
"I had a brain bleed which affected the left side of the body and my back - it has left me with a permanent disability."
Chris said although she could no longer move in the same way, she continued to teach.
"I love teaching people to dance, I just show people what I know," she said.
"I love to watch the kids dance. I love to see people enjoy themselves."
Denise Rapkins
Denise Rapkins has had a love for history and teaching others for as long as she can remember.
From studying the subject at university while raising her three children to being part of the Childers Historical Society while working in her role as librarian, Denise said history had always called to her.
 "I've always been interested in history and I have even written a couple of history books," she said.
"I like to educate people on the history of our town."
Denise has been recognised in the Our People Our Stories project for her passion in teaching others through her many various roles within the community and beyond.
She began working with people early on in life after becoming a public servant at the Department of Immigration, Centrelink and more.
"I worked in lots of different departments," she said.
"I'm a very methodical person and a stickler for the rules!
"A job then came up at the Childers Library and I applied for it and thought, 'what the hell'."
Last year Denise was named the Australia Day Citizen of the Year for 2020 for her work at Childers Library.
Through her innovative thinking and willingness to try new initiatives, Denise brought life to the library activities and programs that resonated with younger and older readers alike.
"I've missed decorating for Halloween and Christmas," she said.
It was through this work that she was able to integrate her love for history.
"At the time I was also secretary of the Historical Society and we donated old photos through the library to be archived and kept as records," she said.
"I loved it, finding out how people used to live and how they got on with their lives," she said.
"It's not the buildings, it's the people who lived in them.
"People's stories are the best."
While Denise no longer lives in Childers, she said she had made many fond memories of her time in the small community and said it would be a place she would always feel connected to.
"Life carries on, we had no intentions of ever moving," she said. 
"With a daughter still in Childers and another daughter in Bundaberg, we will still always be part of the community."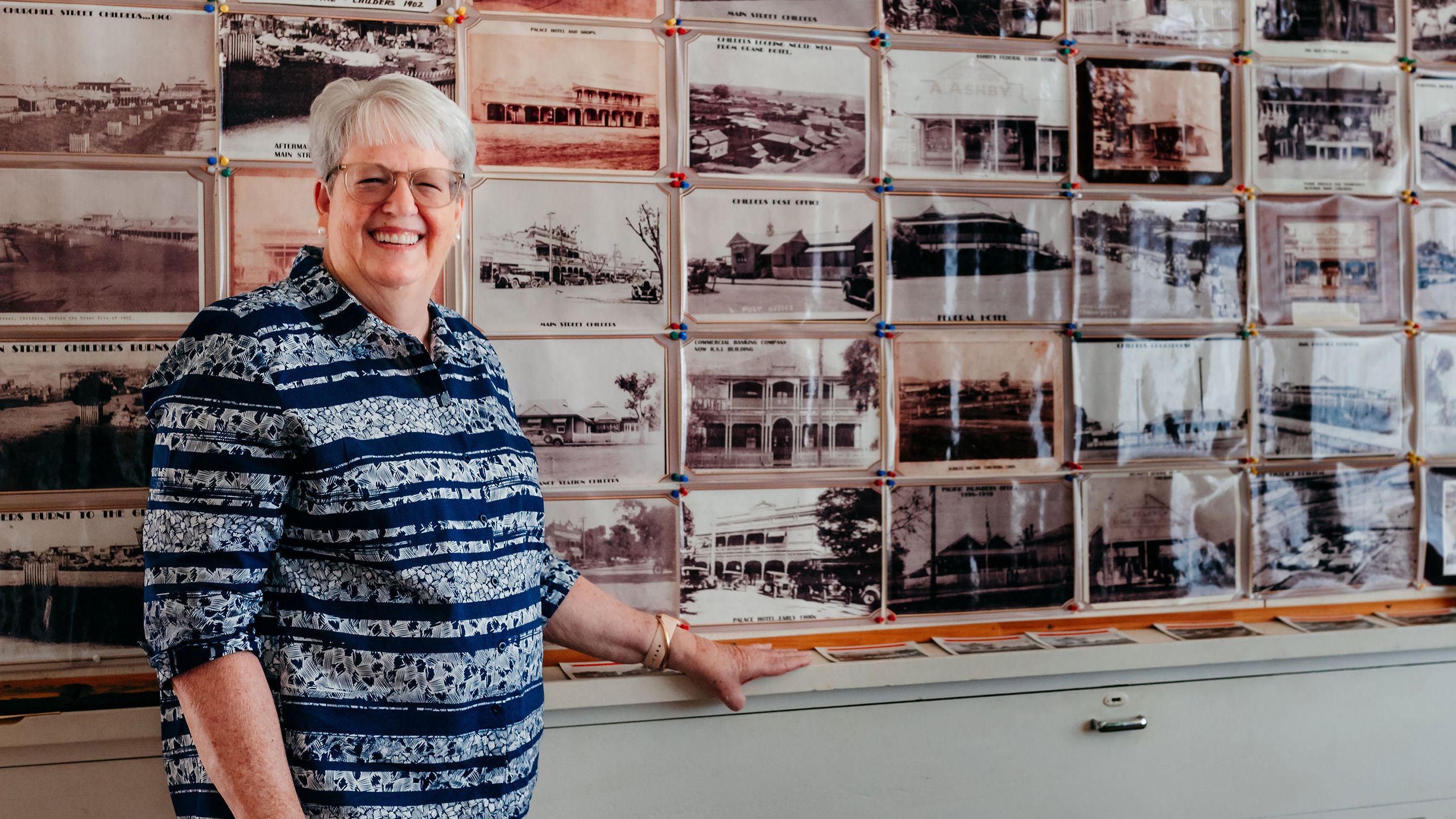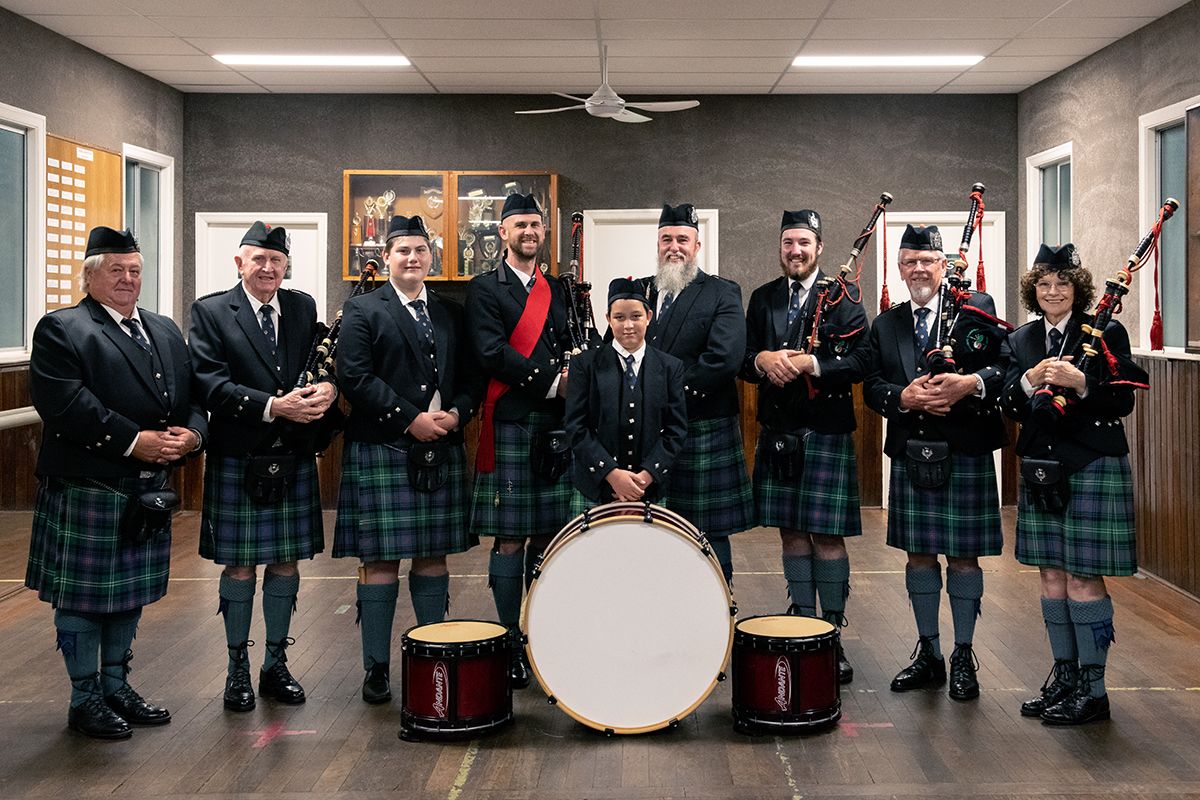 Bundaberg Caledonian Pipe Band
The sound of the bagpipes have been heard loud, proud and clear in the region for the past 130 years through the Bundaberg Caledonian Pipe Band.
Pipe Major Kyle Myers took on his role in the oldest band in Queensland more than 20 years ago and said playing the bagpipes was a family tradition that was close to his heart.
"My grandfather played the pipes and my great great grandfather was in the band," he said.
"My mother's side is Scottish so it gets the blood going and makes you want to do it a little bit more.
"I'm always learning and always developing - 20 years later I'm still learning!"
The Bundaberg Caledonian Pipe Band is made up of a dedicated group of musicians who not only love their craft but love to bring the Scottish sounds to the community.
Members practice weekly and the band is often featured in many community events and performances.
Kyle said playing the bagpipes was not just about being musically gifted, it was also about fitness, strength and dedication.
"It's a fitness exercise and requires coordination," he said.
"It takes a lot to play an instrument and walk up and down the street like we do, and it takes at least 12 months of learning before you are able to play properly."
The group's oldest member Arthur McKenzie has been in the band since the early 1950's and still loves playing the bagpipes to this day.
Arthur recalls it was 69 years ago when he first marched in the Bundaberg Anzac Day Service with the Bundaberg Caledonian Pipe Band, when he was only 19 years of age.
"I joined in 1952, as a tenor drummer at first," Arthur said.
"My brother was the pipe major, and so a few years later I learnt to play the pipes and haven't looked back since."
With a strong Scottish heritage Arthur said the bagpipes were in his blood and he proudly owned a set of Highland bagpipes made by John Center, who made bagpipes in Edinburgh, Scotland from 1869 until 1908.
"My bagpipes are over 100 years old, and I am sure they play as well today as they did 100 years ago," he said.
While the Bundaberg Caledonian Pipe Band members no longer participate in competitions, Pipe Major Kyle said they still keep the community spirit alive.
"We are always out in the community every few weeks at events and we are always looking for new people, new drummers, new pipers to join," he said.
"It's a great organisation to be part of, the old are teaching the young all the time."